A8
A8 Anesthesia Workstation
Intelligent systems in a familiar design
With appreciation for established ways of working, the Mindray A8 retains many traditional features while also introducing cutting-edge technologies which represent the future of anesthesia.
Incorporating pioneering patient monitoring software into its innovative modular design, the Mindray A8 empowers anesthethetists to spend more time observing patients and less time looking at monitors.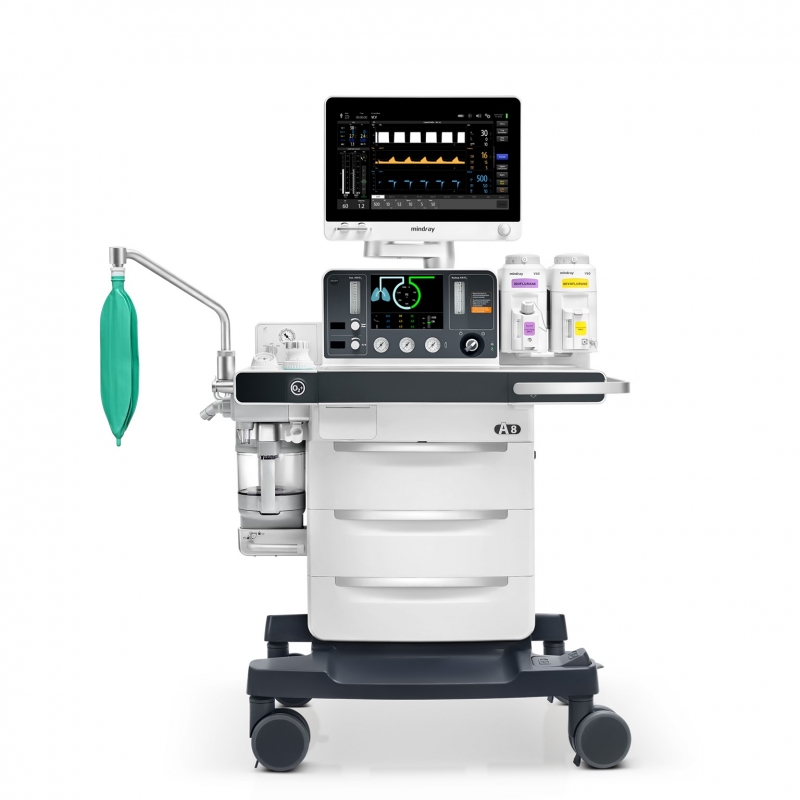 Key Features
Prolonging safe apnoeic oxygenation levels and offering easier intubation for patients with poor oxygen saturation, the A8 features integrated high flow nasal cannula (HFNC) technology.
Integration monitoring modules into one screen gives workstation space back to anesthethetists, providing more data at a glance in critical situations.
The innovation volume exchanger (VE) design allows the A8 to deliver ICU-level ventilation, offering greater precision and protection for all patients during ventilation.
Extends the safe apnoeic oxygenation time with world's first integrated high flow nasal cannula (HFNC) technology.
Spot trends in the anesthesia agent and oxygen levels with Predict function.
Simple module system for analysis of FiO2, EtO2, CO2, N2O , auto-detection of five anesthetic agents, plus BIS & NMT.
E-AGSS system monitors scavenging flow rate and indicates abnormalities.
Innovative VE offers precise ventilation for all patients with tidal volume down to 5 ml.
Auto system safety check.
Intuitive user interface on rotatable 18.5 inch touchscreen monitor
Adaptive Minute Ventilation Mode (AMV) for easy switchover between controlled and spontaneous ventilation without extra adjustment
Configure up to 10 different profiles to make changing users quicker
Clear system status indictors.