HyLED 600
Surgical Light
Flexible and simple handling Maximum Flexibility
Mindray HyLED 600 inherits the advanced technology from LED surgical light and shows excellent light performance: better light intensity, longer service life and lower power consumption.
It is ideal for patient examination, ICU, outpatient, as well as OR-induction, treatment room and recovery areas.
Day surgery, which does not require on overnight hospital stay, become more and more popular due to the increasing maturity of noninvasive surgical techniques.
Designed for day/minor surgery, HyLED 600 provides high quality illumination, with better tissue differentiation and natural color.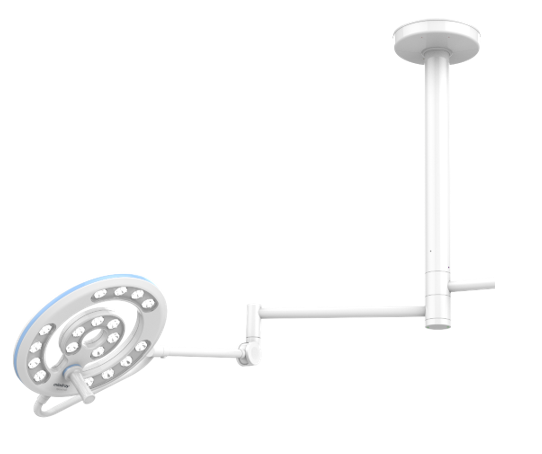 Key Features
Central illumence 130,000 lux.
Better tissue differentiation with color rendering index(Ra & R9) at 96.
Ambient mode through separate control key.
LED life of up to 60,000 hours and lower power consumption.
using the control panel in the light head have some functions as : On/off switching , 10-step brightness control and ambient mode.
22 cm light diameter for superficial operation.
Dual light head supporting chin and brow surgery simultaneously.
Easy light head positioning for the doctor while sitting or standing.
Better shadow dilution 50% with tube and two masks for vagina * Note surgery.
Slim & compact design for laminar flow concern.
HyLED 600M supporting Mobile LED surgical light and offers light solution for emergency OR and minor surgery.
HyLED 600M have power module supply, can support up to 10 hours (normal state).