BeneFusion N Series
Infusion System
Smart touch, Safe medication
With a large capacitive full-touch screen and intuitive interface, the BeneFusion n Series offers a state-of-the-art experience alongside a superior ease of use, ensuring greater precision and higher workflow efficiency.
With an all-in-one design, the BeneFusion n Series delivers exceptional versatility for a variety of clinical purposes, ensuring easier management and higher work efficiency. As (PCA , TCI/TIVE , TPN/Enteral , Blood transfusion and Neonatal).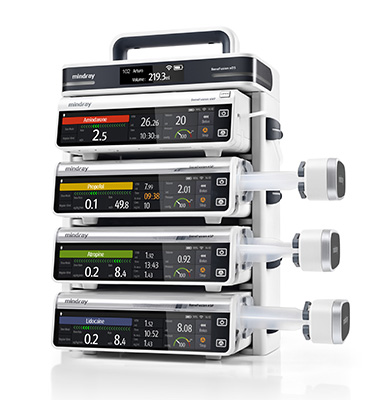 Key Features
Flexible docking solution ranging from 2-24 slots provides a comprehensive solution for a variety of infusion scenarios.
BeneFusion Tds transfer docking station enables safe, simple and efficient transfer.
Tool-free design makes it easier to expand slots as you wish.
BeneFusion n Series has SafeDose Drug Management System that provides these features for all users:
Prevent medication errors caused by drug name confusion with the color-coding system.
Edit drug-administering information easily with cust9omizable SafeDose Info drug library.
Automatically fill in infusion parameters to ensure medication safety and improve clinical efficiency.
With seamless integration and synergy of the BeneFusion n Series and BeneFusion N Series patient monitors, the infusionView enables medical staff to have a comprehensive picture of infusion data and physiological parameters for fast, accurate clinical decision and reasonable prescriptions.
Guide healthcare professionals with appropriate dose of drug when adjusting the infusion treatment.
Provide more accurate prescriptions by reviewing previous treatment up to 24h.
The BeneFusion n Series can also be seamlessly connected to the hospital's HIS and CIS to offer centralized data management. With infusion and alarm information accessible anywhere and anytime , caregivers can keep monitoring patients constantly for optimal patient care while greatly improving clinical efficiency.
One-stop monitoring all patient's vital and infusion treatment details, providing comprehensive information for clinical workers to improve the quality patient care.
Reduce medication errors by aligning with prescriptions, improve treatment quality and work efficiency.
Monitor multiple nDS simultaneously.
Access infusion and alarm information anywhere at anytime.
Access HIS/CIS/EMR through Hl7 protocol.