M9 Premium
Compact Ultrasound System
Powerful | Versatile | Mobile
Powerful Platform
With the next generation of technologies, the Mindray M9 offers users a fully featured platform with premium image quality. Advanced signal processing and newly designed adaptive algorithms raise the M9 to a new level of overall performance.
Combined with single crystal transducers with 3T™ technology, this compact portable ultrasound system delivers deeper penetration and higher resolution, ensuring diagnostic confidence – even in technically difficult patients.
Single Crystal Transducer with 3T™ Technology Provides Sharper Images 
Enhanced with the addition of single crystal technology, the transducer offers improved penetration with significant noise reduction, especially for technically difficult patients.
Triple-matching layer design for higher sensitivity, wider bandwidth, and improved signal-to-noise ratio
Total-cut design for lower cross-talk noise, improved directivity, and improved lateral resolution
Thermal-control design for improved acoustic transmission and higher signal-to-noise ratio
The M9 is a versatile system equipped with highly focused features for dedicated applications. The M9, with its slim profile, is easy to transport and store. Whether mounted on the user-friendly ergonomic cart or hand-carried, the M9 advanced technologies provide the versatility to support the shared service environment with multiple clinical applications.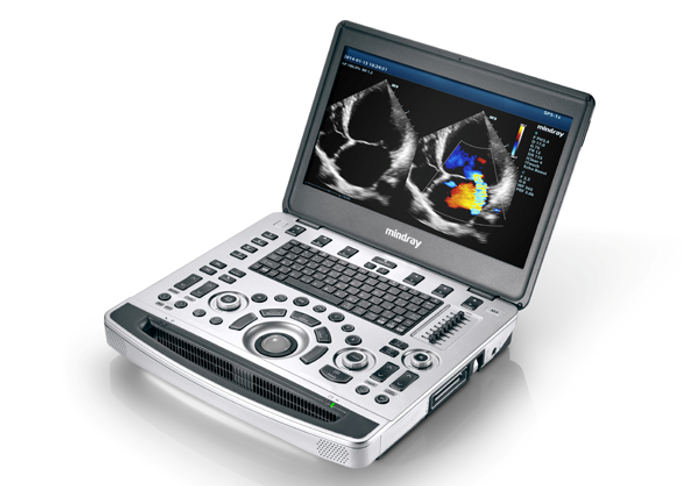 Key Features
16-inch high resolution color LED monitor, Resolution: 1920×1080
B-Mode
 THI and PSHTM
 M-Mode
Color Doppler Imaging
 Power Doppler Imaging and Directional PDI
Pulsed Wave Doppler
iBeamTM (Spatial Compound Imaging)
iClearTM (Speckle Suppression Imaging)
iTouchTM (Auto Image Optimization)
Echo BoostTM
Zoom/iZoom (Full Screen Zoom)
FCI (Frequency Compound Imaging)
 B steer
ExFOV (Extended Field of View)
HDR Flow (High Dynamic Range Flow)
HR FlowTM (High Resolution Flow)
Raw data processing
1 active probe port
128GB solid hard drive
2-USB
HDMI
Internal WIFI
UltraAssist (Off-line software)
 iStorage
Built-in Battery
Power adapter
Control panel film with language
Continuous Wave Doppler
Free Xros MTM
Free Xros CMTM
iScapeTM View
UWN+ Contrast ImagingTM
Contrast Imaging QA (Quantitative Analysis) IMT
Elastography
TDI (Include TVI, TVD, TVM, TEI)
TDI QA (TDI Quantitative Analysis)
TT QA (Tissue Tracking Quantitative Analysis)
LVO(Left Ventricular Opacification)
Stress Echo
DICOM
Clinical Measurement Package
Smart OBTM (Auto OB measurement)
Smart NTTM (Auto NT measurement)
iWorksTM (Auto Workflow Protocol)
iNeedleTM (Needle Visualization Enhancement)
Moble Trolley
Audo/Video extend module: iDock51
ECG function
Barcode reader
Footswitch: 1-pedal/2-pedal/3-pedal
External DVD R/W driver
Advanced Cardiac Imaging
Echo Boost™ cardiac image optimization is the result of new adaptive algorithms that reduce noise in the heart chambers and the overall image during every frame of acquisition.
Improves overall contrast resolution
Improves speckle homogeneity throughout the image
LVO with Stress Echocardiography
The M9's premium capabilities allow contrast LV opacification during stress examinations, enhancing differentiation between tissue and the blood pool, providing better visualization of the endocardium.
Customizable user protocols
Flexible wall motion scoring
Comprehensive reporting package
LVO UWN+ contrast imaging (ultra-wideband non-linear plus)