SynoVent E5
Ventilators
Compact yet powerfull
The SynoVent E5 is the ventilator you need with interface you want. It does not only include advanced ventilator functionality for patients ranging from infant to adult, but also a modern, easy-to-use interface
The display can be configured to suit each clinician's taste and needs, and gives quick and easy control over ventilator parameters and settings with a cleverly designed user interface that combines a touch screen with direct access knobs the user will quickly learn to navigate the SynoVent E5 to effectively put all of its features into clinical use.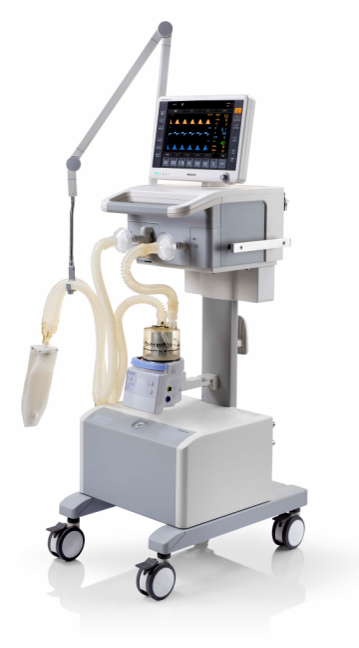 Key Features
The 12.1 inch screen can display up to 4 simultaneous waveforms or 2 loops as well as 25 monitored parameters.
SynoVent E5 can deliver tidal volumes in the range 20-2000 ml.
It is suitable for operation from neonates to adults.
It supports up to 14 ventilation modes including but not limited to SIMV, PRVC, APRC, Duolevel and NIV.
Mindray's world class gas analysis technology can also be integrated for EtCO2 monitoring.
SynoVent E5 is able to connect seamlessly to both HIS and CIS Systems with ease.
The optional C3 compressor can be integrated to secure ventilation in an environment without central gas supply.
For further adaptation to different surroundings the SynoVent E5 is configured for mounting on a trolley or a pendant.
For improved patient safety SynoVent E5 ventilator utilizes a proximal neonatal flow-sensor with minimal dead-space and low resistance to ensure total precision and control throughout the ventilation period.
The continuous monitoring of up 31 parameters, including Work Of Breathing (WOB) and Intrinsic PEEP (PEEPi), ensures that all clinical decisions are evidence based and can be made with confidence.
Both the side-stream and main-stream CO2 modules are suitable for invasive and non-invasive ventilation.
For further support procedures can be initiated to measure Rapid Shallow Breathing Index (RSBI), Negative Inspiratory Force (NIF), and P0.1 for weaning process.
The SynoVent E5 supports High-flow O2 therapy ensuring delivery of precise oxygen concentrations at a user adjustable flow rate, optimal humidity and temperature.
Switching between mechanical ventilation and O2 therapy is achieved by enabling the O2 therapy mode and changing the mask or nasal cannula of O2 therapy, without the need to move the patient or change the ventilation equipment.
For added patient safety the E5 ventilator offers a simple and effective TV Setting prompt function.
Designed in accordance with international and European standards and labeled with the CE marking.
Compliance with IEC 60601-1-2 for EMC.
Ventilator Data, trends and screenshots can be exported to USB.
5 types of communication ports: RS232, VGA, USB, Ethernet, Nurse Call.
Integrated Li-Ion backup battery time of up to 90 minutes (one battery) or 180min (two batteries).
Configurable graphical and numerical display.
Show trended data for the last 72 hours.
Store 1000 history log information.