BeneHeart R12
Electrocardiograph
Rapid and Accurate
BeneHeart R12 delivers rapid and accurate ECG diagnosis to help you meet a variety of clinical demands. The paperless mode delivers faster patient testing and reduces the use of ECG paper whilst also saving time.
Full print preview image helps you to decide if an immediate repeat recording is needed, giving you a faster workflow than ever before.
Preview image for instantaneous on-screen review allows you to send data to an ECG management system without printing .Review on screen helps you to retrieve previous ECG reports at any time.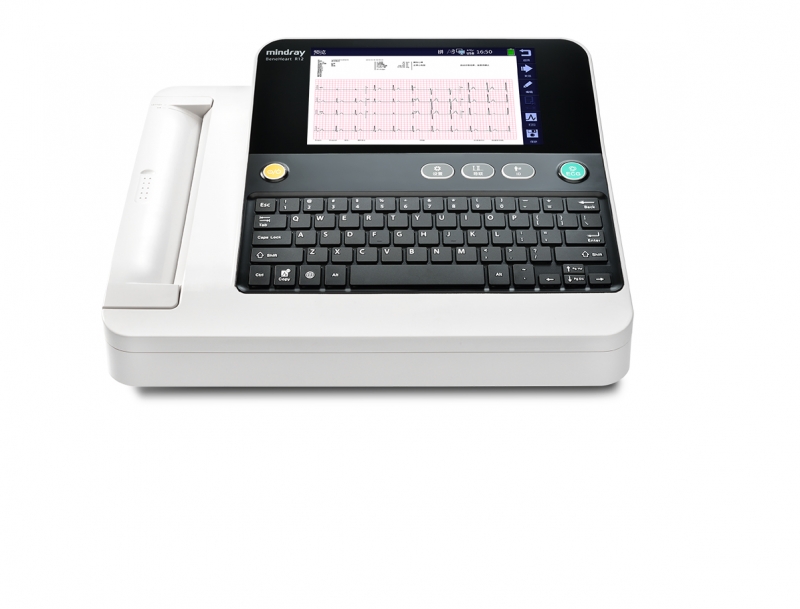 Key Features
Li-ion battery with 4 hours of continuous operation or 400 pages of recording on a single charge
Weighs only 4.9 kg
8inch high-resolution color display with optional touchscreen
Standard keyboard layout with on-display soft touch hot keys
Saves up to 800 ECG Reports on the internal memory
Patient demographics can be retrieved from your Patient Admission System
Reports can be exported in pdf form to a USB device or directly over a network connection
Optional dual band WiFi
Automatic pacemaker detection
Connect to an external printer to capture reports on full A4
Globally recognized Glasgow 12 lead analysis supports diagnostic confidence
Optional roll stand