VS-900
Vital Signs Monitor
Simplicity Meets Flexibility
The needs of medical practitioners and patients are the ultimate driving force of Mindray's innovation. Today, Mindray is bringing the monitoring of vital signs to a new level, providing intelligent information that optimises your workflow.
From spot checks to continuous bedside monitoring, VS-900 not only measures NIBP, SpO2 and temperature, but also has the capability for manual entires of up to six additional vitals, National Early Warning Scoring system that can aid in clinical decision and customisable NIBP modes for added flexibility.
In today's healthcare environment, vital sign data collection, valdition and timely EPR posting are essential in providing the best possible medical care. When done manually, this process can be subject to errors and omissions which can affect efficiency and delay in clinical decision.
The VS-900 offers multiple connectivity solution to respond to your institutional requirements. Data can be posted directly to the EPR at the point-of-care, or upon completion of your rounds.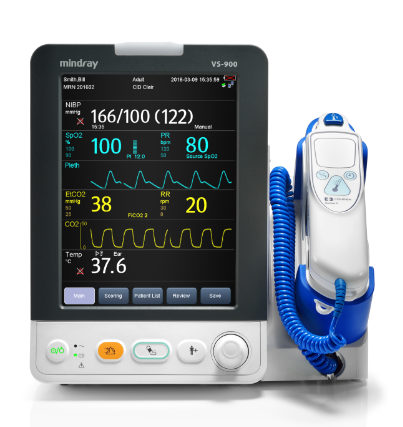 Key Features :
Large 4 inch LED back-light LCD display provides a clear and distinct view.
The optional touch screen with intuitive interface along with the rotary knob and button provide excellent usability.
Optional barcode scanner allows quick patient admit and patient ID input. The patient information input procedure can be further simplified by accessing the full patient demographic automatically from the ADT server.
Manual, automatic and customized NIBP monitoring modes are perfectly suited for different clinical applications.
PI (perfusion Index) of SpO2 measurement can guide caregivers to find the best measurement position. It is also a valuable indicator for the changing health condition of neonate patients.
Spot check and continuous monitoring without adjusting monitoring modes dramatically simplifies the monitoring of a diverse patient population.
The convenient patient data review, record and output by patient or by time further ease the caregiver's daily workload.
Stores up to 5,000 patient measurements.
VS-900 can be easily connected to the EMR (Electronic Medical Records) system via Mindray's powerful eGateway, both through WIFI or wired connections. This solution will dramatically simplify the workflow by automating the clinical data collection and ADT procedures, as well as making data review and reporting more convenient during the patient's entire stay.
The optional MEWS (Modified Early Warning Score) system offers effective support for clinical decision making and patient triage.
Manual input of vitals such as respiration rate, pain level, glucose, fluids and degree of consciousness.
Mindray provides 3 options of SpO2 measurement, Mindray, Masimo and Nellcor.
Optional Mindray SmarTemp oral or Medtronic Genius TM 2 IR tympanic temperature.
Optional recorder.
Optional extended run lithium-ion battery.
Stores up to 5000 measurements, accessible by patient ID for easy review.
Supports nurse call interface.