PM-60
Pulse Oximeter
Simple and Portable
PM-60 is a miniature, lightweight device capable of spot check and continuous monitoring of SpO2 and pulse rate. You determine the capabilities and performance,
depending on the operational mode you choose. For simple vital signs checks spot mode offers basic functions including auto-assign of patient IDs, alarm suppression state and auto-standby and power-off features. For longer term monitoring continuous mode offers manual entry of unique patient IDs, alarm management and pleth waveform display, If pulse oximetry varies from day to day, or perhaps hour to hour, PM-60 is ideal as your device of choice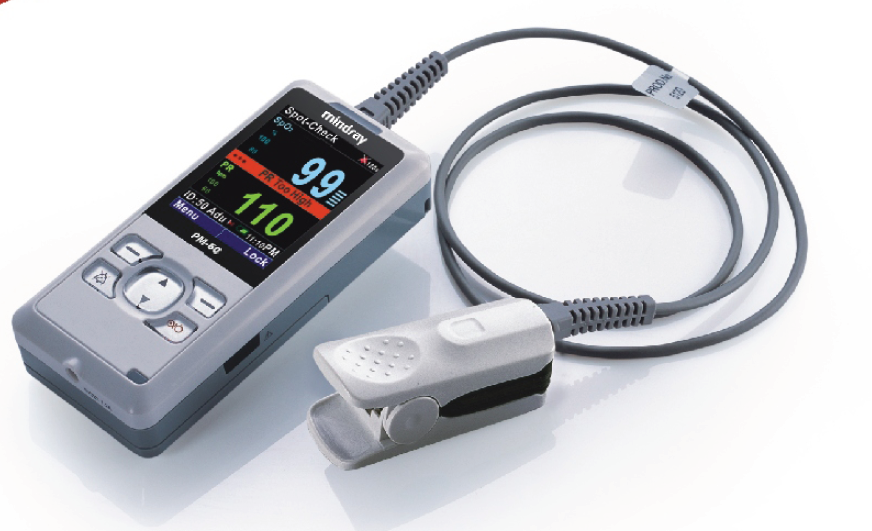 Key Features :
Suitable for adult, Pediatrics, and neonatal patients.
Performs SpO2 and pulse rate measurement in either spot-check or continuous mode.
Miniature design offers an impressive lightweight device, making it easy to use on the go.
4 inch color LCD prominently displays SpO2 and pulse rate readings.
Variable screen brightness allows you to alter the intensity of the LCD and conserve battery power.
Adjustable visual and audible alarms: you can choose whether to show SpO2 and pulse rate alarm limits on the LCD.
In continuous mode, memory supports storage of 96 hours of trended data for a single patient IDs.
In spot-check mode, memory supports storage of 4000 sets of data for a maximum of 99 patient IDs.
Export real-time patient data to a PC using infrared technology.
Choose from either lithium ion or AA alkaline batteries depending on your run-time needs.
Automatic standby mode and selectable auto-shutdown mode assist in conserving battery power.
Batteries to support up to 36 hours continuous working.
Protective cover and carrying case perfect to portable monitoring needs.