DC-8
Diagnostic Ultrasound System
Inspiration Beyond Your Expectation
In the past 10 years, we continually evolve the Mindray family of ultrasound products. We listen carefully and we constantly strive to improve our products according to our customer needs. Now we deliver the new DC-8 that truly represents the achievement of our persistent effort.
It is your demands that inspired the performance and functionality of DC-8. Advanced technologies, best-in-class image quality and ergonomics are the new DC -8 attributes, in order to improve the quality of patient management. When all of these components come together, you really appreciate a state-of-the-art ultrasound system to support the most demanding applications on the day-to-day basis
3T New Transducer Technology
It is Mindray's unique technology to increase bandwidth and transmission efficiency, thus offering better S/N ratio and improved resolution. It allows you to:
Scan with higher frequency even focusing on in deep structures;
Acquire images easier and faster at different body types;
Obtain better image clarity scanning most challenging
HR Flow is an innovative technology to better visualize tiny vessels and complex flow patterns Ultra Wideband Nonlinear Processing is Mindray's latest patent technology to enhance contrast capabilities.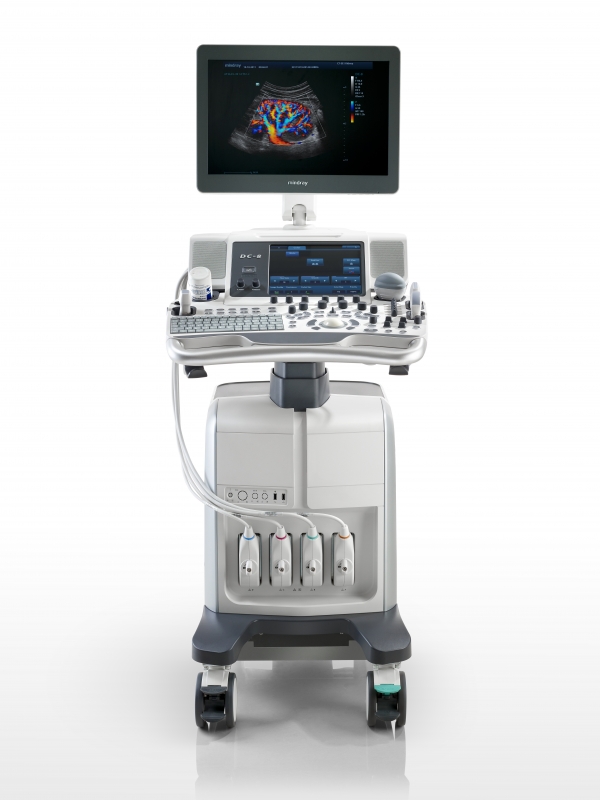 Key Features
B-Mode
THI and PSHTM
M-Mode
Color Doppler Imaging
Power Doppler Imaging and Directional PDI
Pulsed Wave Doppler
iBeamTM (Spatial Compound Imaging)
iClearTM (Speckle Suppression Imaging)
iTouchTM (Auto Image Optimization)
Echo BoostTM
Zoom/iZoom (Full Screen Zoom)
FCI (Frequency Compound Imaging)
B steer
ExFOV (Extended Field of View)
HR FlowTM (High Resolution Flow)
Raw data processing
4 active probe ports
1TB hard drive
DVD R/W driver
6-USB
UltraAssist(Off-line software)
iMeasurement
iReport
iStorage
MedSight
Continuous Wave Doppler
Free Xros MTM
Free Xros CMTM
iScapeTM View
UWN Contrast ImagingTM
Contrast Imaging QA(Quantitative Analysis)
Smart 3DTM
Real-time 4D
iPageTM (Multi-Slice Imaging)
SCVTM (Slice Contrast View)
STIC (Spatio-Temporal Image Correlation)
CMPRTM (Curved MPR)
Color 3D
Niche
Smart-V TM (Smart Volume)
iLive
IMT
Elastography
TDI (Include TVI, TVD, TVM, TEI)
TDI QA (TDI Quantitative Analysis)
TT QA(Tissue Tracking Quantitative Analysis)
LVO(Left Ventricular Opacification)
 Stress Echo
DICOM
Clinical Measurement Package
Smart OBTM (Auto OB measurement)
Smart NTTM(Auto NT measurement)
iWorksTM ( Auto Workflow Protocol)
iNeedleTM ( Needle Visualization Enhancement)
Battery
UltraViewTM (off-line analysis software)
3D/4D View
Contrast View