DC-40 Full HD
Diagnostic Ultrasound System
Scanning with Exceptional Capability
To deliver on the promise of quality health care within reach, Mindray keeps on introduces the progressive solution to you, who devote to contribute more for Primary Healthcare Service. As the most important friend of you, Ultrasound system
deserve exceptional capability to improve your contribution. With the comprehensive understanding of your improving mind, the brand-new DC-40 with Full HD is aimed to provide you with:
Higher Imaging Definition
Higher Ergonomic Design
Higher Reliable Dependence
ComboWave
ComboWave is a unique transducer technology for Linear. By the applying of a new type of composite piezoelectric material, DC-40 with Full HD obtains better acoustic spectrum and lower acoustic impedance, and produces better performance of linear transducers.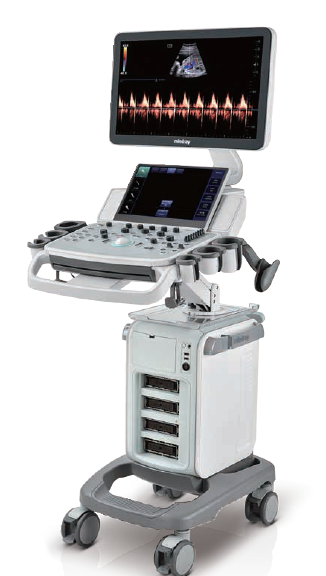 Key Features
High resolution color LED monitor 21.5 inch Independent tilt up of 110 degrees from horizontal and swivel left/right of – 90 to 90 degrees Resolution: 1920×1080
3-inch LED touch screen Resolution: 1920*1080, Touch screen panel angle adjustable for easy visualization: 30 degrees in rotation
iClear (speckle-reduction imaging technology)
PSH (Phase Shift Harmonic imaging
iBeam: spatial-compounding imaging technology
B-Mode
THI and PSHTM (Phase Shift HarmonicImaging)
M-Mode/Color M-mode
Free Xros MTM (Anatomical M-mode)
Free Xros CMTM (Curved Anatomical Mmode)
Color Doppler Imaging
Power Doppler Imaging/Directional PDI
Pulsed Wave Doppler
Continuous Wave Doppler
Smart 3DTM (Freehand 3D)
Natural Touch Elastography
iScapeTM View (Panoramic Imaging)
UWN (Ultra Wideband Non-linear Contrast ImagingTM
iTouchTM (Auto Image Optimization)
Zoom/iZoom (Full Screen Zoom)
FCI (Frequency Compound Imaging)
B steer
ExFOV (Extended Field of View)
Raw data processing
4 active universal probe ports, and 1more for pencil probe only
USB ports
iStorage, iMeasurement, iReport
MedSight
iScanHelper
Smart Installment Reminder
Smart Track
Auto IMT
UWN Contrast ImagingTM
ECG
TDI (Include TVI, TVD, TVM, TEI)
TDI QA (TDI Quantitative Analysis)
Real-time 4D
iPageTM (Multi-Slice Imaging)
iLive
IVF
Smart OBTM (Auto OB measurement)
Smart NTTM(Auto NT measurement)
Smart Face
Smart VTM
Smart FLC
DICOM
Clinical Measurement Package
Smart Bladder
Built-in battery
Gel warmer
Built-in wireless adapter
DVD R/W driver