BeneHeart D30
Defibrillator/Monitor
Empowering Every Second
Powerful lifesaving solution
Mindray strives for constant innovation to improve the clinical aspects of product performance. The new generation of technology platform enables Mindray to improve the performance of the BeneHeart D30 defibrillator to meet changing clinician needs.
This is Mindray's new generation of high-end defibrillator /monitor D30. Powered by innovative technologies, D30 is designed to withstand demanding environmental conditions, fighting side by side with you anywhere, anytime.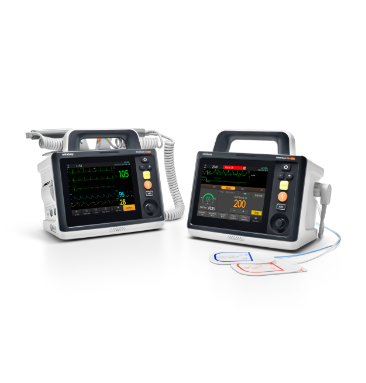 Key Features
Excellent Visual Experience: 8" display touch screen with high resolution 1024×768, Wider viewing angle ≥170°, ability to Auto-brightness.
Smart touch and Intelligent Sensing with Wide Adaptability
Gesture control: easy operation, in addition to physical knob and buttons for operations, and more confident.
Color-coded, easy-to-use panel.
Magnetic connector: Automatically attracted to connect DC power supply, no precise alignment is required.
Ultra-light Only 4.2kg (with battery) for exceptional portability>
Versatile paddles External paddles with contact indicator improve usability for clinicians>
Bend-resistant cable.
Visual AlarmSight™ problem-solving support with graphical visualization, not only alerts you the problems, but also shows you how to fix them simply.
IP55 Water-/dust-proof
Rescue Triangle: Resuscitation, debriefing, and training are three major pillars of high-quality rescue.
New QShockTM technology Faster to shock, Shorter Interruption, CPR Feedback of both process & Effect. With QShockTM, D30 only takes <5s from power on to shock.
Synchronized Analysis – Shorter Interruption.
CPR Filter: Genuine ECG waveform can be seen even during compressions with CPR Filter medical staff can analyze the rhythm without pause.
CPR Feedback: More Complete Process Evaluation.
CQITM – Ideal Effect Evaluation: The larger the CQI value, the better the peripheral perfusion
CPR Training System
All in one 360J Manual defib /AED /Pacing /Monitoring: ECG, SPO2, NIBP, CO2
Structured Debriefing D30's structured debriefing protocols improve the performance of resuscitation teams in subsequent resuscitation events.
Hands-on Training Training mode in D30 help you get real operation experience.
M-IoT Device Manager: obtains comprehensive device data to ensure the safety and effectiveness of all equipment at all times.