SV 300
Ventilator
Compact yet powerful
The SV-300 is a state of -the-art ventilator that's simple to configure , easy to operate , and versatile in use. It treats pediatric and adult patients with all acuity levels at ICUs and interpretation care.
With its comprehensive list of standard features , including the latest modes of ventilation, the SV-300 is appropriate for all levels of patient acuity and in all care settings from the patient's bedside to transport to another point of care.
Providing mechanical ventilation requires a lot of attention and operation. In view of this, we conducted an in-house study to calculate the number of steps that need to be performed by caregivers during the entire course of ventilation. The data suggests that SV300 ventilators require the least amount of operation. (20% lower than other European brand ventilators: for both ARDS and COPD patients).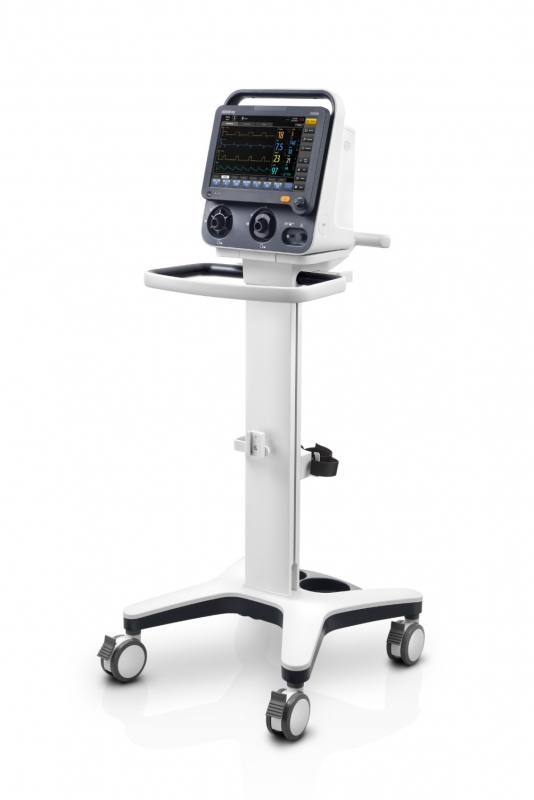 Key Features:
Suitable for adult and pediatric (infant patients above 3kg).
Electronically controlled turbine technology for supporting transportation of the patient inside hospital or inside intensive care unit.
Invasive and non-invasive ventilation which could be used inside ICU or outside ICU.
O2 therapy function for sequential therapy. Flow and FiO2 adjustable.
Compact and lightweight design, no more than 10kg, easy to carry.
Angle adjustable full color 12.1 inch TFT touch screen with high resolution (1280*800)
Dedicated inspiratory & expiratory flow sensor to ensure the ventilation accuracy.
Inspiratory & Expiratory module can be detachable.
Integrated main-stream / side-stream CO2 concentration monitoring.
Integrated SPO2 measurement.
Full-automatic system check procedure
Ventilation Modes for invasive & non-invasive: V-A/C , P-A/C,V-SIMV, P-SIMV , PSV , CPAP , Duolevel , APRV , PRVC , PRVC-SIMV , Apnea Back-up.
Ventilator Data, trends and screenshots can be exported to USB.
5 types of communication ports: RS232, VGA, USB, Ethernet, Nurse Call.
Connect seamlessly to both HIS and CIS system using the BeneView patient monitor series.
Designed in accordance with international and European standards and labeled with the CE marking.
Compliance with IEC 60601-1-2 for EMC.