HyBase 6100
Electro Hydraulic Operating Table
Outstanding Versatility for All Surgeries
Engineered for increasingly complex surgical scenes, HyBase 6100 needs least effort and time to position the patient in a safe, comfortable and efficient way. Insightful to the surgeon and nurse's needs, Mindray is answering demands for a total solution of operating table.
Providing a better clinical use's scenario, HyBase 6100 is designed with a much lower table height of 498mm specially for neurosurgery and minimally invasive surgery, a more user friendly base cover, as well as a more convenient wireless remote control system. Moreover, with longitudinal slide up to 320 mm, the table is ideally suitable for cardiovascular surgery or spinal surgery with C-arm. All in all, HyBase 6100 maximizes the flexibility of operating table's versatility.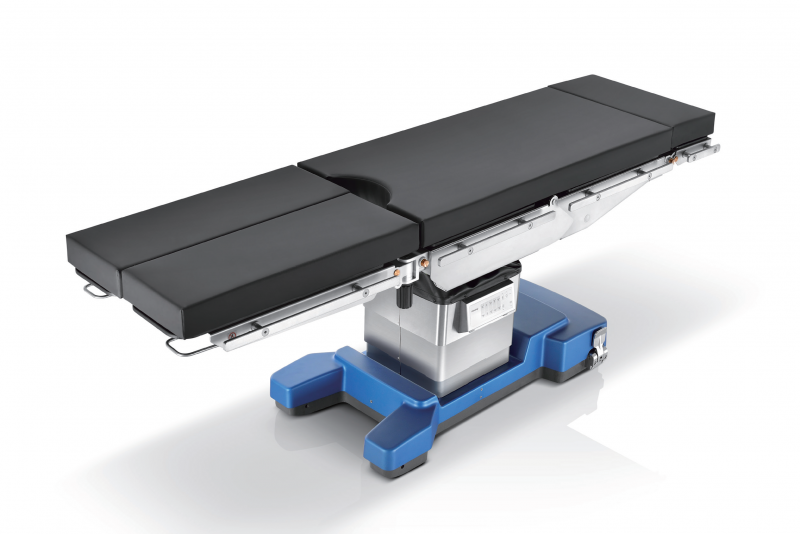 Key Features
Decompression mattress for the comfort of patients to remove the incidence of decubitus ulcer, with an antistatic, waterproof and seamless design.
High level weight capacity in normal and reverse positions.
Internal battery maintaining power supply for 50-80 operations.
498mm (Plus configuration) lowest table position after adjusting the patient position, making it suitable for neurosurgery and minimally invasive surgery.
Electric brake system for optimum stability.
Return to original position with one button.
Option with Carbon fiber top.
Electric Longitudinal function with 320 mm combined with radiolucent table plate gives free C-arm access for the whole body.
lifting capacity up to 380kg with highest safety and stability.
safe working load 275kg in normal position.
Multi-layer decompression pad with waterproof and seamless design.
Three control panels including remote panel, column panel & foot switch.
Wireless remote control system.
Foot pump Manual Override System.