BeneFusion VP3
Infusion Pump System
Ease with Essential Care
BeneFusion VP3 features an easy-to-use concept that simplifies infusion workflow and satisfies various clinical needs.
The BeneFusion VP3 has been designed to facilitate comprehensive solution for clinical use, with its accuracy, safety feature and intuitive design, BeneFusion VP3 is capable to be a powerful partner for intervenous infusion.
BeneFusion VP3 helps to smooth the process when transferring patients during pre-hospital and in-hospital activities, saving a great amount of time for taking care patients.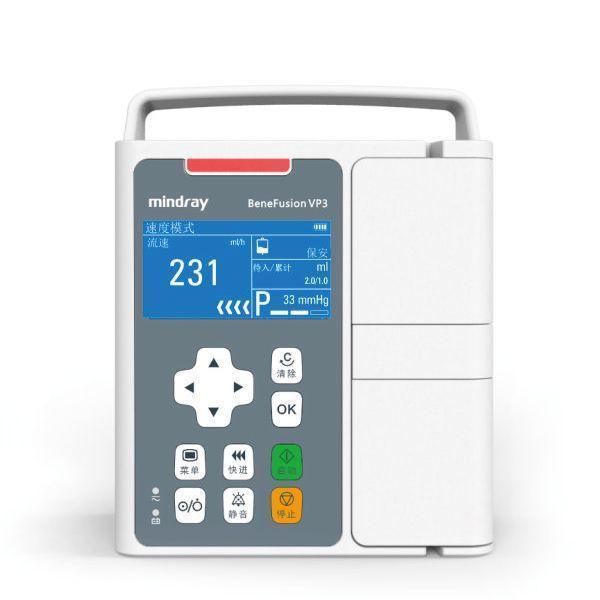 Key Features
Compact design with handle.
Light weight 1.45 kg for easy transport.
Drug name display & history record.
Up to 4 infusion modes, meeting a wide range of clinical demands.
Meet EN-1789 standard, supporting use in Ambulance.
Mindray provides different kinds of IV sets compatible with our pumps to meet your demands through different clinical needs, and ensures the best performance.
Quick guide with instructions on screen provides useful information to help avoid improper operation.
Visible alarm makes it easier to identify and locate specific issues, helping to solving problems timely.
Innovative volume collection function is versatile enough to collect volume of infusions, satisfying different clinical needs.
The integrated work station facilitates a worry-free bedside management of multiple pumps.
Real-time high stability of infusions.
High accuracy over long hours.
Changing flow rate easily without stopping the pump, which helps to continue the infusion.
Unexpected bolus reduced when the occlusion occurs, releasing the high pressure to protect patients.
A wide range of occlusion detection, increasing safety levels.
Graphical and numerical dynamic pressure display, predicting occlusion alarm in advance.
The battery working time is long enough to last for up to 12 hours.
High level of resistance to water and dust guarantees great durability