Resona 7
Premium Ultrasound System
New Waves in Ultrasound Innovation
New Waves in Ultrasound Innovation
Mindray is continuously exploring the way to improve diagnostic confidence since the company is founded. Powered by the most revolutionary ZONE Sonography® Technology, Resona 7's new ZST+ platform brings the ultrasound image quality to a higher level by zone acquisition and channel data processing. Besides the premium level image quality, Resona 7 also provides clinical research with the revolutionary V Flow for vascular hemodynamics evaluation, and the most intelligent plane acquisition from 3D dataset for fetal CNS diagnosis. Combining with the most intuitive gesture-based multi-touch operation and all clinical features together, Resona 7 is truly leading new waves in ultrasound innovation.
It rises
With core platform advantages of ZST+
The channel data based ZST+ is an extraordinary innovation, representing an ultrasound evolution. Transforming ultrasound metrics from conventional beam forming to channel data based processing, ZST+ is able to deliver multiple imaging advances: Advanced Acoustic Acquisition, Dynamic Pixel Focusing, Sound Speed Compensation, Advanced Image Processing and Total Recall Imaging.
Advanced Acoustic Acquisition
By transmitting and receiving a relatively smaller number of large zones, Advanced Acoustic Acquisition extracts more information from each acquisition, 10 times faster than a conventional line-by-line beamforming method.
Dynamic Pixel Focusing
Dynamic Pixel Focusing technology allows Resona 7 to achieve extreme uniformity in pixel level through the whole field of view. Therefore, there is no longer the need to frequently adjust the focal positions to achieve uniformity across patient exams.
Sound Speed Compensation
By retrospectively analyzing complete channel data stored in channel data memory, the Resona 7 is able to intelligently choose the optimal sound speed to improve image accuracy even with tissue variation, allowing for adaptive tissue-specific optimization.
Advanced Image Processing
Channel data based ZST+ provides Advanced Image Processing for greatly improved imaging clarity. By multiple and retrospective channel data processing, it makes the best use of acoustic information for image improvement. HD Scope: higher definition image within ROI. Coherent Spatial Synthesis: further improved image quality.
Total Recall Imaging
As ZST+ captures and stores the complete acoustic raw data set, Total Recall Imaging allows the user to retrospectively modify numerous imaging parameters and optimize clinical information.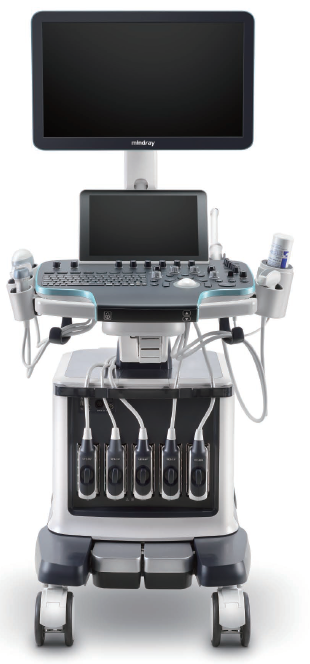 B-Mode
THI and PSH TM
M-Mode
Color Doppler Imaging TM
Power Doppler Imaging and Directional PDI
Pulsed Wave Doppler
Continuous Wave Doppler
Free Xros M TM
Free Xros CM TM
iBeam TM (Spatial Compound Imaging)
iClear TM (Speckle Suppression Imaging)
iTouchTM (Auto Image Optimization)
Echo Boost TM
Zoom/iZoom (Full Screen Zoom)
FCI (Frequency Compound Imaging)
B steer
ExFOV (Extended Field of View)
HD Scope
SSC(Sound Speed Compensation)
Channel data processing
Smart 3D TM
Color 3D
Real-time 4D
STIC (Spatial-Temporal Image Correlation)
iPage+ (Multi-Slice Imaging)
iLive
SCV+ (Slice Contrast View)
Niche
Smart Planes CNS
Smart FLC
Smart Planes FH
Smart Face
Smart-V TM (Smart Volume)
Smart OB TM (Auto OB measurement)
Smart NT TM (Auto NT measurement)
Clinical Measurement Package
Smart Doppler
HR FlowTM (High Resolution Flow)
Smart Track
IMT
RIMT(RF-Data based IMT)
R-VQS(RF-Data based Quantitative Analysis on Vessel Stiffness)
Smart Pelvic
IVF
iScape TM View
iNeedle TM ( Needle Visualization Enhancement)
V Flow
UWN+ Contrast ImagingTM
Contrast Imaging QA(Quantitative Analysis)
Volume CEUS
STE Imaging(Sound Touch Elastography)
STQ Imaging(Sound Touch Quantification)
Natural Touch Elastography Imaging
iFusion
ECG function
Auto EF
TDI (Include TVI, TVD, TVM, TEI)
TDI QA (TDI Quantitative Analysis)
TT QA(Tissue Tracking Quantitative Analysis)
LVO(Left Ventricular Opacification)
Stress Echo
iStorage
iWorks TM ( Auto Workflow Protocol)
DICOM
MedSight
MedTouch
UltraAssist(Off-line software)
UltraViewTM (Off-line analysis software)
Voice control
Touch gestures
1TB hard drive
120G SSD(Solid State Drive)
DVD R/W driver
5-USB ports
It resonates.
With innovation, better diagnosis and healthier life
Healthcare is, and remains, one of the most pressing challenges facing humanity across the globe. Technology, the core driver in many diverse industries, is transforming healthcare to a new level of resonance with unprecedented clinical precision, diagnostic confidence, patient safety and satisfaction.
The same is true for ultrasound ,With more than 20 years experience in ultrasound development, Mindray constantly endeavors to integrate the most advanced, reliable ultrasound technology to products of amazing quality, for increasingly enhanced clinical confidence and patient care. Medical minds think alike. By making ultrasound technology better, we are making lives better.