BeneVision N12/N15/N17
Patient Monitors
Flexible. Consistent. Comprehensive
The BeneVision N12, N15, and N17 patient monitors empower healthcare providers by offering a premier solution to satisfy patient monitoring needs across diverse  care settings. With a platform-wide modular design, expansive parameter options, and specialized Clinical Assistance Applications (CAAs), the N12,N15, and N17 patient monitors support clinical excellence and align nicely with organizational cost of ownership goals.
Designed with the end-user in mind, all N-Series models feature multi-gesture, capacitive touchscreen technology that works like a smartphone and incorporates a surprising new level of ease and speed into your workflow. Auto-brightness detection for increased contrast,paired with an unprecedented wide viewing angle,improve visibility of critical data at the bedside.
Compatible with the BeneVision Central Monitoring System (CMS), and sharing the same intuitive user interface, the N12,N15,N17 can blend easily into your existing capital investment.

Key Features
12inch, 15inch and 18.5inch definition capacitive touchscreen displays, featuring platform-wide,intuitive user interface
Features N1 Monitor/Module as a multi-parameter module and wireless transport solution
Standard features are 3,5,6-lead ECG, Masimo RD SET* SpO2, 2 IBP, NIBP, respiration , temperature and arrhythemia analysis with QT/QTc interval monitoring and atrial fibrillation (Afib) detection
Optional ST-Segment monitoring
Mindray CAAs include SepsiSightTM , HemoSightTM , ST Graphic, Early Warning Score, Glasgow Coma Scale, and 24-Hour ECG Report
Extensive data storage including trends, alarms, events, and 48 hours of full disclosure
12-lead ECG interpretation with report storage, providing immediate access for up to twenty reports at POC
Optional BeneLinkTM Module for ventilator, anesthesia machine an IV pump data integration
Compatible with Mindray eGateway for HL7 communication to EMR
Optional Multi-gas Module, NMT, INVOS RSO2 OR application
Optional JADAK 2D barcode scanner and remote control
Integrates with BeneVisionTM CMS hardwire or optional 2.4/5 GHz wireless capability
A user interface to put your mind to ease
 Using the same capacitive touchscreen technology as smart devices, the N-Series user interface enables clinicians to work with a refreshing level of ease, Purposefully designed with a flat user interface, N-Series monitors enable 90% of common operations to be performed in two steps, reducing both workflow complexities and required training time.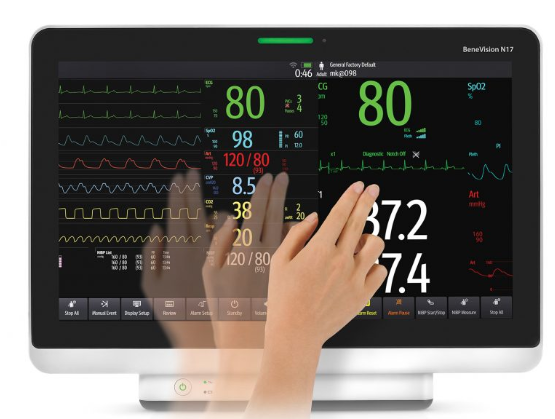 N-Series User Highlights:
All N-Series patient monitors feature the same user interface so your time-to-train is significantly reduced per clinical FTE.To know one N-Series monitor is to know them all!
Increase waveforms as your screen size grows – 8 waveforms with N12, 10 waveforms with N15,12 waveforms with N17
Configure up to 24 quick keys to best suit your care area and practice modules
Advanced patient viewing capability incorporates Bed-to-Bed and Alarm Watch modes
Manufactured with Eastman disinfectant-resistant pollymers, providing exceptional resistance to deterioration over the life span of the monitors and moules