TE7
Diagnostic Ultrasound System
Xtreme Precision and Performance
Focused Applications in POC
With intuitive design, ease of operation, superior image quality, and a simple fied workflow, the TE7 provides diagnostic confidence for focused applications of anesthesia and pain management, critical care, emergency medicine and musculoskeletal bedside examinations.
Complete Transducer Solution
Equipped with Mindray's unique 3T transducer technology, TE7 offers a full suite of transducers for a wide variety of applications, including convex, linear, phased array, endocavity, intraoperative and TEE transducers. With up to 16MHz linear transducer, TE7 assures you a crystal clear image on superficial structure.
Anesthesia and Pain Management
With its compact touch screen and advanced features, including iNeedle™ visualization, dedicated nerve exam presets, and TEE transducer, the TE7 is an ideal system for nerve block and intraoperative cardiac monitoring. The TE7's intuitive workflow makes operation efficient for the demanding OR environment.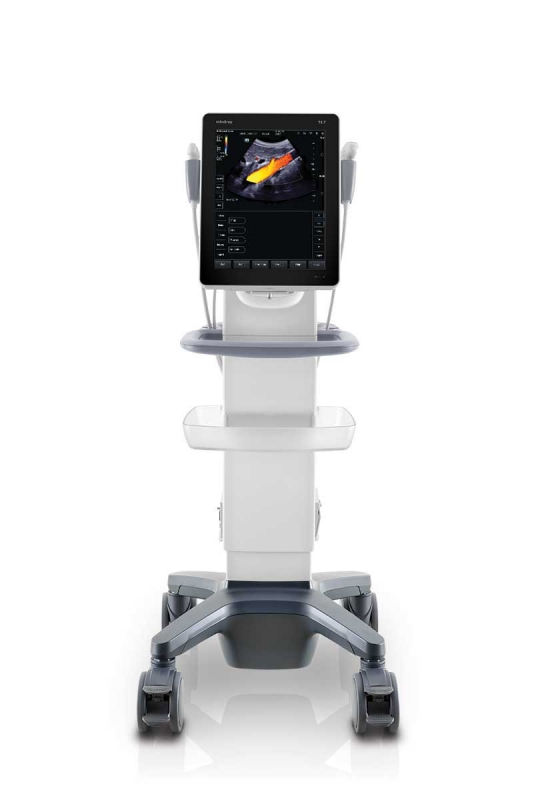 Key Features
15-inch high resolution color LED monitor, Resolution: 768*1024 Viewing angle: 85°left/right; 85° up/down
B-Mode
THI and PSHTM
M-Mode
Color Doppler Imaging
Power Doppler Imaging and Directional PDI
Pulsed Wave Doppler
iBeamTM (Spatial Compound Imaging)
iClearTM (Speckle Suppression Imaging)
iTouchTM (Auto Image Optimization)
Smart Track
Zoom/iZoom (Full Screen Zoom)
FCI (Frequency Compound Imaging)
B steer
ExFOV (Extended Field of View)
Post Processing
Echo BoostTM
The eSpacial Navi 4D Needle
iVocal – innovative voice command function
3 or 1 active universal probe ports
SSD
Built-in wireless adapter
Built-in battery
4 USB 3.0 ports
Touch Gestures
iStorage
MedSight
Continuous Wave Doppler
DICOM
Left Ventricular Opacification
iNeedleTM ( Needle Visualization Enhancement)
Cart : DCU independent tilt of 50 degrees up, 5 degrees down.
Table stand/ Wall mount
ECG module
The eSpacial Navi 4D Needle
The eSpacial Navi 4D Needle Positioning function detects the position and orientation of magnetized needles in the presence of the transducer and displays this information relative to the ultrasound image. Spatial positioning of the needle, with respect to the ultrasound image, is then updated in real time. This guides the operator to better visualize the needle in the ultrasound image during ultrasound guided needling procedures.