SynoVent E3
Ventilators
Compact yet powerfull
The SynoVent E3 does not only include advanced ventilator functionality but also a modern, easy to use interface
The display can be configured to suit each clinician's taste and needs, and gives quick and easy control over ventilator parameters and settings. With a modern user interface that combines a touch screen with direct access knobs the user will quickly learn to navigate the SynoVent E3 to effectively put all of its features into clinical use.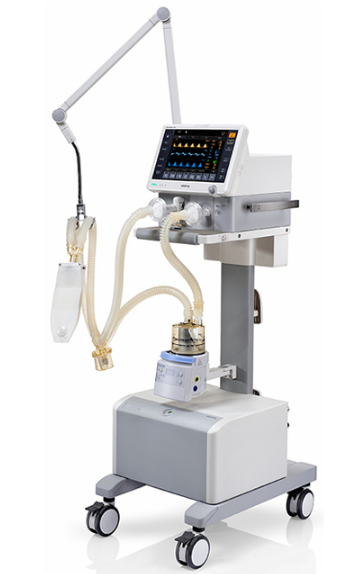 Key Features :
The Full color 10.4 inch screen can display up to 4 simultaneous waveforms or 2 loops as well as 25 monitored parameters.
SynoVent E3 can deliver tidal volumes in the range 40-2000 ml.
Suitable for adult, pediatric and neonatal patients (>0.3kg).
Mindray's world class gas analysis technology can also be integrated for EtCO2 monitoring.
The optional C3 compressor can be integrated to secure ventilation in an environment without central gas supply.
For further adaptation to different surroundings the SynoVent E3 is configured for mounting on a trolley or a pendant.
Pneumatically driven & electronically controlled ventilator.
Invasive and non-invasive ventilation used inside ICU or outside ICU.
O2 therapy function for sequential therapy.
Compact and lightweight design, easy to move with trolley
Dedicated inspiratory & expiratory flow sensor to ensure the ventilation accuracy. Expiratory module (except flow sensor) can be autoclavable
Integrated main-stream / side-stream CO2 concentration monitoring
Full-automatic system check procedure
Ventilation Modes for invasive & non-invasive: V-A/C , P-A/C , V-SIMV, P-SIMV , PSV , CPAP , Duolevel , APRV , PRVC , PRVC-SIMV , Apnea Back-up.
Ventilator Data, trends and screenshots can be exported to USB.
5 types of communication ports: RS232, VGA, USB, Ethernet, Nurse Call.
Connect seamlessly to both HIS and CIS system using the BeneView patient monitor series.
Designed in accordance with international and European standards and labeled with the CE marking.
Compliance with IEC 60601-1-2 for EMC.