WATO EX-65 Pro
Anesthesia System
An enhanced anesthesia workstation
Maximum technical performance,contemporary and ergonomic design, incorporating the maximum patient safety in daily anesthesia practice, with small footprint and compact size is appropriate for any environment where space is limited.
The  WATO EX-65 Pro takes the recognized feature-rich anesthesia workstation to the next level.
Modern anesthesia ventilators offer a wide variety
of ventilation modes, enabling complex ventilation
care for the critically ill patient.
WATO EX-65 Pro's ventilator has unique Volume
Guarantee modes to deliver desired total volume
to the patient in PCV and SIMV modes.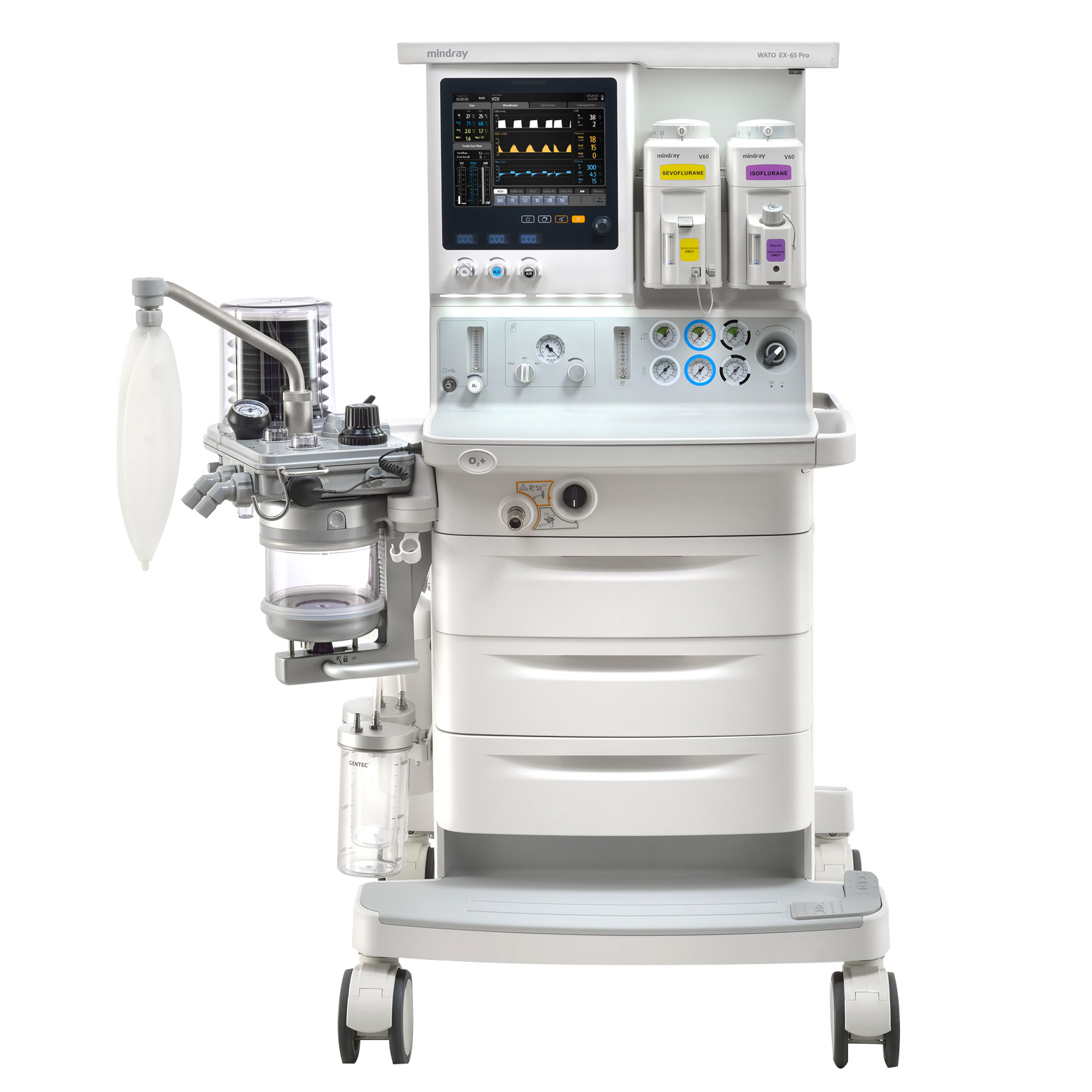 More Powerful
The new anesthetic agent calculation software and intuitive UI enables the user to make efficient mode settings and control expensive agent usage which helps to reduce the associated costs.
More Integrated
The new compact WATO EX-65 has a space saving design with even more functionality.
The Plug-and-Play Multi-Gas module provides comprehensive breath-by-breath analysis of FiO2, EtO2, CO2.
N2O, auto-identification of 5 anesthetic agents and BIS.
The optional patient suction system is built in for your convenience.
More User-friendly
With a 15 inch full color touch-screen, the easy-to-use UI supports informed decision making through
clearly displayed graphical and numerical data. The new flat-menu structure reduces the amount of
interaction required to make control and parameter changes, streamlining your workflow.
Key Features
15 inch touch display
Flat Menu design: maximum 2-steps for vent mode settings
Smart ventilator with all needed ventilation modes (VCV, PCV, PCV-VG, SIMV, PS and CPAP)
PnP gas module
Loops and waveforms on one page
The new (optional) integrated air compressor
is designed to drive the ventilator.
EtCO2 and Capnogram with 3 options:lSidestream/Microstream/Mainstream
5 Agents with auto-identified
BIS (Bispectral Index) – single wide module or combining with the gas module
Integrated, Flexible and  Autoclavable breathing circuit with heating system
Connected To
BeneView T1
Transport Monitor/Module