HyLED 8
Surgical Lights
Keep with endless
With recognizing requirements of the healthcare, and continuing focus on the efficient clinical workflow, the latest medical technology is always demanded from the patients and hospital.
Mindray is dedicated to an innovative solution with a new generation of LED surgical light-HyLED 8 Series for the operating room environment of the future With cutting-edge LED technology, the HyLED 8 series offers excellent luminous efficiency, heat-free light source, and incredible long service life, giving you total support in OR.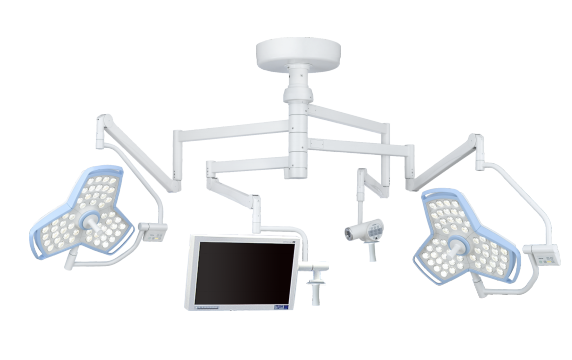 Key Features
Incredible long service time up to 60,000 hours.
Ergonomic "Trigon" shape for better compatibility with laminar flow systems.
Adjustable light field diameter from 180-280mm.
Adjustable color temperature as optional configuration (3000-5000k) for better tissue differentiation.
2 Mega-Pixel HD carrier-arm and integrated HD camera system.
With the mobile base and build in battery supply, HyLED 8600M goes where you need it with excellent performance. Its ultra-agile and reliable suspensions offer precise positioning and superior maneuverability.
HyLED 8600M with Four castors all with locking system provide stable base for the light.
Central Illumination: 160,000 lux/130,000 lux.
depth of Illumination : 1,200 mm.
Low power consumption.
Optional touch screen panel for easier control.
330°rotatable integrated HD/SD camera.
Ultra-thin design & excellent maneuverability.
Ergonomic and compact design.
Each LED bulb with individual circuit can be replaced respectively, which will minimize the maintenance cost.
The professional shadow dilution experiment simulated extreme situations by using tubes and masks proved that Mindray HyLED 8 Series surgical light has sufficient illumination even in extreme situations.
Combined with an Ondal spring arm maximizes mobility and ensures stability.
Default with camera control function.
Supporting video recording from other medical devices source.