iMEC 15
Patient Monitor
Intuitive patient monitor for comprehensive bedside care
With Mindray's 25-year experience in patient monitoring, Imec15 patient monitor cater to clinical needs by offering precise and stable measurement of essential parameters.When monitoring is reliable,you can naturally be more confident with your clinical decisions.
iMEC15 further promotes Mindray' s high quality, low cost patient monitors. For example, our Artema EtCO2 and Multi-Gas modules provide gold-standard measurement specifications, lower cost consumables and maintenance, as well as 40,000 hours MTBF time.
Sharing the same measurement platform as the Mindray monitors, iMEC15S already has industry- leading performance inside which is recognized by global leading institutions. For example, our NIBP performance is validated and certified by BHS(British Hypertension Society), our Multi-Gas module is integrated with AION™ Platinum Multigas Analyzer from Artema Technology™ and we provide sophisticated analysis for up to 24 kinds of ECG arrhythmia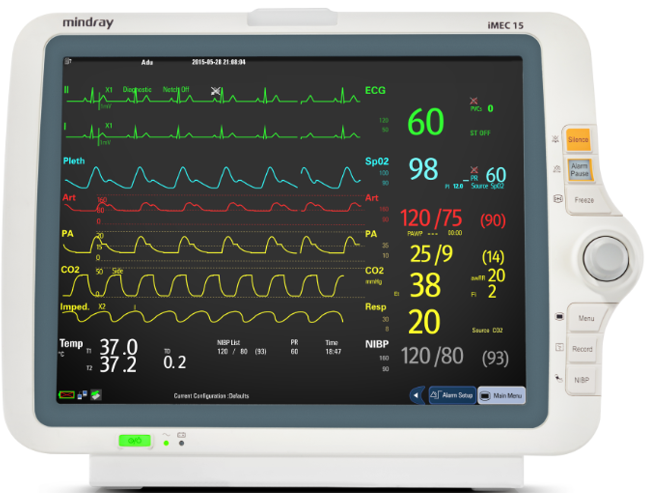 Large Display iMEC15 patient monitor has a large 15 inch colour screen, which offers intuitive and instant access to all patient information at the point of care as well as allowing you to monitor your patients in a quicker and more convenient way.
User profiles management quickly customizes the monitor.
The USB ports allow you to transfer patient data and profiles.
Maintenance free Li-ion battery provides up to 2.5 hours backup power.
Multiple release mounting solutions for easier installation and transfer.
Compact Design iMEC15 patient monitor has a very compact and light weight design which helps it to easily fit into various clinical sites, helping to save valuable bedside space
Key Features
Touch screen,hard keys,and rotary knob are available.
13 waveforms can be displayed on the screen simultaneously.
Parameters:3/5/12-channel ECG,multi-channel arrhythmia analysis up to 24 types of arrhythmia analysis ST analysis and ST templates Lead auto detection,Smart lead off,Pace detection ECG summary
Masimo/Nellcor SpO2 technology could be applied,PI index of SpO2 indicates the site perfusion level immediately.
2-channel of IBP could be performed, including PAWP, PPV and IBP waveform overlapped
Could perform mainstream, micro-stream, and side-stream EtCO2 measurement.
O. could be performed, support Auto and Manual mode
Multi-gas: automatically identify AG type. MAC value is required
Calculation tools available including: Drug Calculation, Hemodynamic Calculation, Oxygenation Consumption Calculation, Ventilation Calculation, Renal Calculation
Support VGA display
No fan design.
View other patient without central monitor. Simultaneously 10 monitors, including telemetry transmitters could be viewed on the same screen.
HL7 gateway ready.
Network capabilities
48 hours of full disclosure waveforms; 120 hours of graphic/tabular trend review; 1000 sets of NIBP measurements; 100 arrhythmia events with 8s, 16s or 32s associated waveforms; 100 alarm events with 8s, 16s or 32s associated waveforms; 120s frozen waveforms could be stored in monitor for clinicians to retrieve and review.
Provides mini-trend mode, large number mode, OxyCRG monitoring.
Related Literature