A5
Anesthesia System
intuitive | effortless | precise
The A5 blends performance and simplicity to meet the challenges of your complex world. The A5's intuitive touchscreen interface eliminates time normally spent manipulating settings so your attention is focused on patient care. With advanced ventilation modes, integrated gas analysis, benchmark ergonomic design and interface, you will be impressed with all that the A5 can do.
The A5 conforms to the IHE (Integrating the Healthcare Enterprise) Patient Care Domain (PCD) profile. A5 is capable of outputting data in industry standard HL7 protocol. HL7 with the IHE PCD profile is recognized by anesthesia information and electronic medical records (EMR) systems as the demonstrated industry standard for unambiguous interoperability.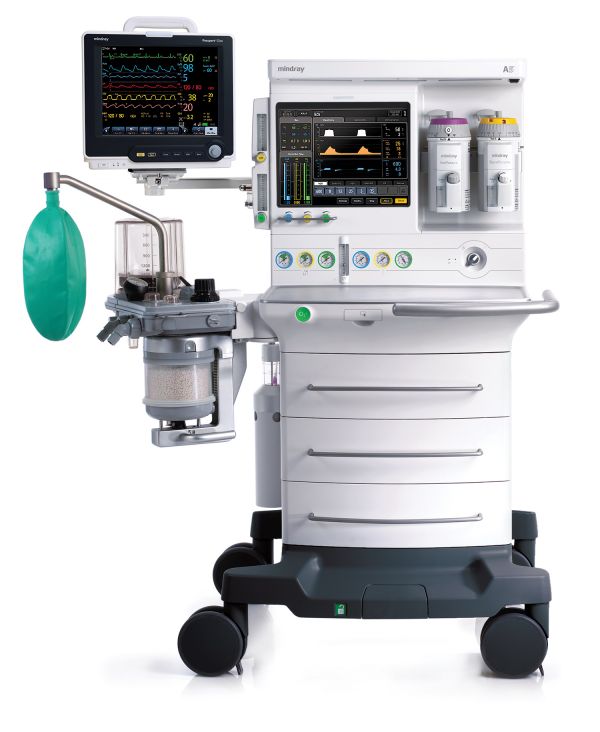 The A5's ample work surface, comfortable foot rest, central brake and integrated cable sweeps enhance device mobility.
Key Features
Volume Control Ventilation (VCV)
Pressure Control Ventilation (PCV) with volume guarantee
Pressure Support Ventilation (PS)
Synchronized Intermittent Mandatory Ventilation in volume and pressure modes (SIMV-VC and SIMV-PC)
Optional integrated gas analysis provides dual agent auto identification, age-based MAC values and capnography
Automatic compliance compensation and fresh gas compensation maintain accurate tidal volumes
Warmed Breathing System (35º C) virtually eliminates internal condensation
Auxiliary Oxygen/Air flow meters deliver blended gas, reducing combustible O2 concentration
Built in caster guard design clears away cables and hoses
Economical single container absorber reduces compressible dead space volume and accepts non-proprietary prepackaged and loose fill absorbent
Integrated backup control touchpad
Deck lighting with adjustable brightness control
Two hour battery backup
3-year standard warranty*
Connected To
A7
Anesthesia Workstation
BeneView T1
Transport Monitor/Module