DC-80
Diagnostic Ultrasound System
Insight, Intelligence, and more
Overview
Just place the transducer, and realize the images that you need. With continuous efforts to improve technology, Mindray ultrasound has been recognized worldwide for proven performance. Based on transducers with cutting-edge technology, the DC-80 can dramatically improve imaging capability across a wide range of applications.
Insight
for addressing diagnostic requirements As an insightful solution, the DC-80 delivers outstanding performance with the most advanced capabilities for addressing your diagnostic requirements across a wide range of applications. This includes a complete elastography solution with best in class shear wave and strain elastography for tissue stiffness assessment, UWN+ CEUS and quantitative analysis tools for vascular perfusion analysis, Depth VR for vivid 3D/4D with depth perception, tissue tracking for regional myocardial analysis, and more.
Innovation
refining your user experience Inspired innovation is driven by clinical needs. The DC-80 is focused on what matters to you and refines your user experience with better ergonomics, easier scanning, and flexible management, even beyond your expectations. daily increases in patient throughput. Built on the foundation of Mindray's continuous efforts over the the inheritance from premium technology, the DC-80 is designed to help you manage your daily output with excellent insights, intelligence and a whole lot more, no matter what type patients and clinical challenges you will face.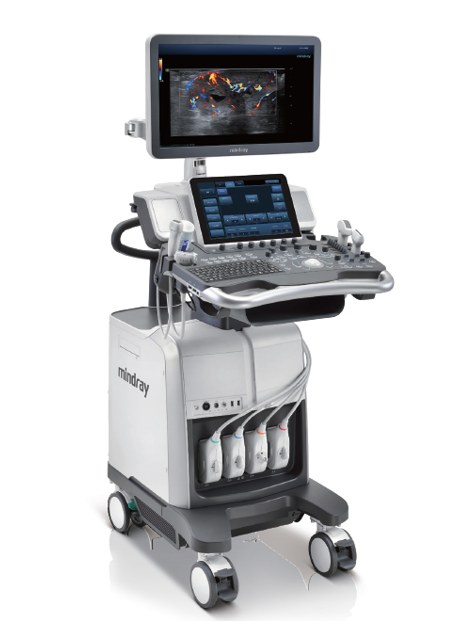 Key Features
21.5 or 23.8 inch high resolution color LED monitor with high Resolution: 1920×1080, with unique dual-wing floating arm Viewing angle: ≥170 degrees, Digital brightness and contrast adjustment through preset
Tile/Rotate independent adjustment:
Tilt angle range: 110 degrees
Rotate angle range: 180 degrees
13.3 inch high sensitivity anti-glare color touch screen with high Resolution: 1920×1080
B-Mode
THI and PSHTM
M-Mode and Color M Mode
Color Doppler Imaging
Power Doppler Imaging and Directional PDI
Pulsed Wave Doppler
Continuous Wave Doppler
Free Xros MTM
Free Xros CMTM
iBeamTM (Spatial Compound Imaging)
iClearTM (Speckle Suppression Imaging)
iTouchTM (Auto Image Optimization)
Echo BoostTM
Zoom/iZoom (Full Screen Zoom)
FCI (Frequency Compound Imaging)
B steer
ExFOV (Extended Field of View)
Smart 3DTM
Color 3D
Real-time 4D
STIC (Spatial-Temporal Image Correlation)
iPage+ (Multi-Slice Imaging)
iLive
SCV+ (Slice Contrast View)
Niche
Smart Planes CNS
Smart Face
Smart FLC
Smart-V TM (Smart Volume)
Smart OBTM (Auto OB measurement)
Smart NTTM (Auto NT measurement)
Clinical Measurement Package
HR FlowTM (High Resolution Flow)
Smart Track
V-Mapping
IMT
IVF
Smart Pelvic
iScapeTM View
iNeedleTM ( Needle Visualization Enhancement)
iCompare
UWN+ Contrast ImagingTM
Contrast Imaging QA (Quantitative Analysis)
STE Imaging (Sound Touch Elastography)
STQ Imaging (Sound Touch Quantification)
Natural Touch Elastography Imaging
Ultrasound Fusion imaging
Fusion RESP
ECG function
Auto EF
TDI (Include TVI, TVD, TVM, TEI)
TDI QA (TDI Quantitative Analysis)
TT QA (Tissue Tracking Quantitative Analysis)
LVO (Left Ventricular Opacification)
Glazing Flow
Stress Echo
iStorage
iWorksTM ( Auto Workflow Protocol)
DICOM
McAfee
MedSight
MedTouch
Touch gestures
hard drive
SSD (Solid State Drive)
DVR Module
USB ports
ComboWave transducers
Compared with traditional transducers, ComboWave transducers utilize a new type of composite piezoelectric material to dramatically optimize the acoustic spectrum and reduce acoustic impedance. Further integrated with Mindray's unique 3T technology, the ComboWave transducers L12-3E, L14-5WE and L9-3E allow you to experience outstanding performance with extreme image resolution and uniformity in applications such as thyroid, breast, vascular, and more.