BeneFusion CS5
Central Infusion SuperVision System
BeneFusion CS5 Central Infusion SuperVision System allows you to central monitor the infusion status and real-time information of all patients and medical pumps. The powerful operation system allows for connecting with at least 64 units of BeneFusion DS5 infusion supervision system, and over 512 units of infusion/syringe pumps.
Through BeneFusion CS5 central infusion supervision system, allows you to draw and display the actual location of any beds in ward, helping you to deal with clinical problems quickly. Admit patient and discharge patient, real time display, check and edit patient information manually, or through barcode scanner.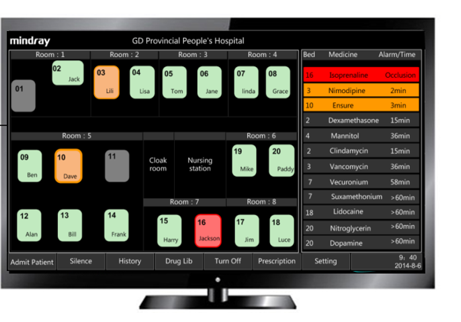 Key Features
Patient management, support at least 20,000 patients information, alarm event and treatment record view.
Liquid balance chart helps doctor to evaluate patient condition to generate better treatment.
Centrally monitor the real-time infusion status of all patients.
Real ward drawing helps medical staff to fast locate the patient and deal with alarms.
CS5 supports for at least 10 days/2000 pieces record per patient.
CS5 allows you to edit/import/export drug library, and easy updating for BeneFusion DS5 or infusion/syringe pump directly.
The general drug library version supports for at least 2000 drugs.
Cis could automatically download the prescription from CIS/HIS, then send it to DS5 directly.