BeneVision CMSII
Central Monitoring System
Patient data where and when you need it
The Mindray BeneVision Central Monitoring System (CMS) is a powerful and scalable solution providing continuous, real-time access and  surveillance across healthcare networks, large and small.The BeneVision CMS integrates and displays patient information from networked bedside monitors, vital signs monitors, wireless transport solutions, and telemetry transmitters-up to 1200 devices across the enterprise, locally and remotely.
With customized architecture, the BeneVision CMS meets varying needs within the hospital, from small observation units to combined critical care units to the larger centralized monitoring environment.Utilizing flexible role-based functionality controlled through clinical authentication, WorkStations enable access  to specified care areas and are configurable based on desired levels of interaction.WorkStations also offer advanced toolsets for improved, streamlined clinical decision making, including: ST Graphic, 24 hour ECG summary, Caliper Measurement and Hemosight.
Bi-directional communication with hospital systems is streamlined through the eGateway integration engine with ADT functionality and HL7 IHE PCD export. Near real-time patient information is remotely accessible from smartphones, tablets, and PCs, enhancing review and collaboration.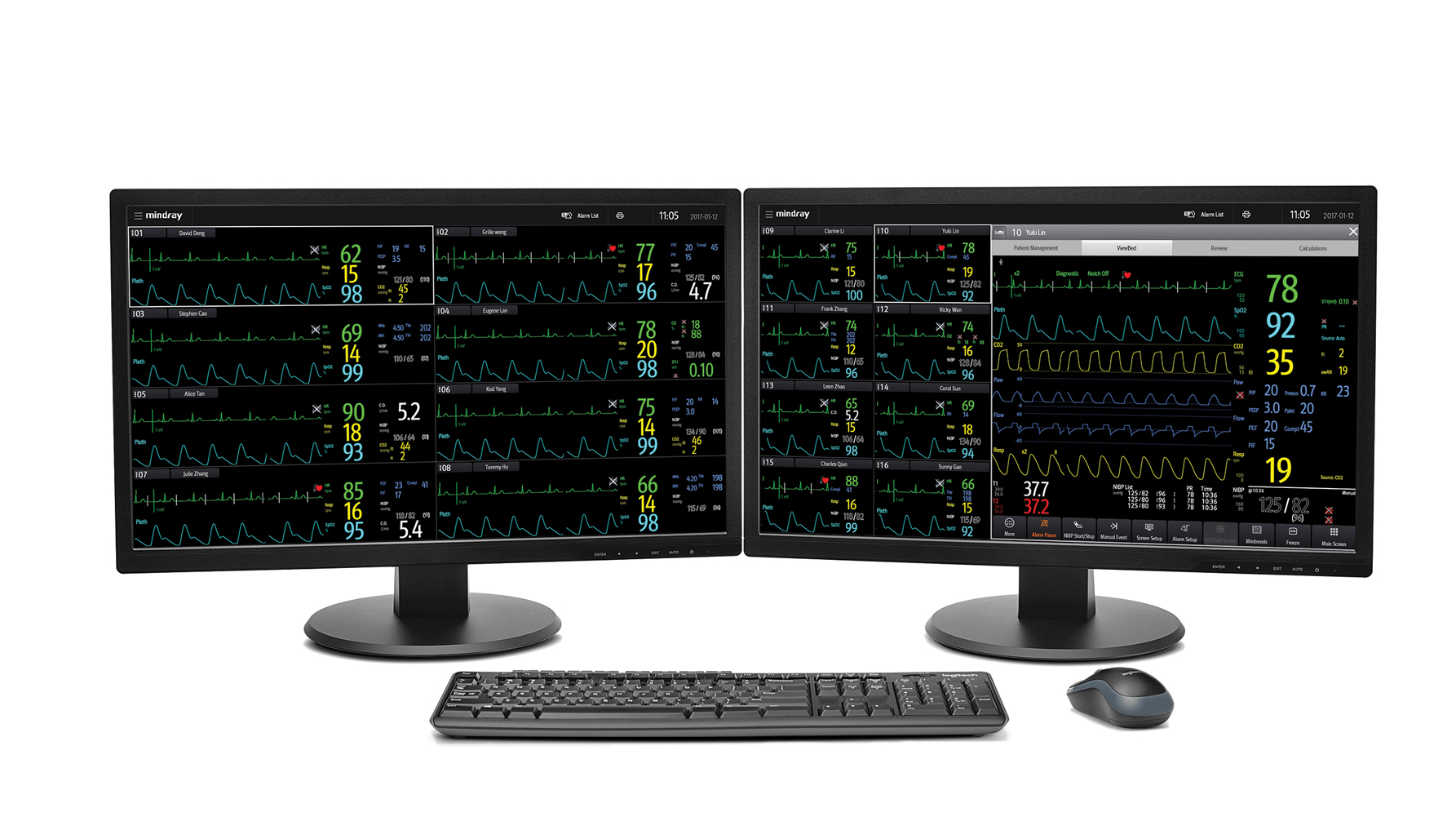 Key Features
Single server supports 32 beds/sectors; Enterprise server supports 128 beds/sectors
Enterprise server provides system and network redundancy for maximum uptime and performance
23inch widescreen HD displays presents up to 36 patients across clinical units
Gesture-driven, PCT touchscreen interface
Multiple views including tabular trends and events, full disclosure, 12-lead ECG and bedside view
Scalable WorkStations, from fully-interactive to view-only, with over 20 configurable functions
Up to 32 scalable WorkStations per server configured as fully active to view-only, maximum 120 WorkStations on the network
Remote and mobile access via Microsoft* Windows*, Ios or Android-based smartphones, tablets and PCs via the CMS Viewer or CMS Mobile application software
Bi-directional communication with N-Series, Passport monitors and TM80 Telemetry for enhanced patient care
Provides up to 240 hours of full disclosure waveforms
Historical database enables review of over 1000 discharge patients (typical)
Documentation options include PDF export, network printer, and dual trace recorder