ePM 15/12/10
Compact Patient Monitor
The evolution of simplicity
Inspired by the needs of customers, Mindary patient monitors adopt advanced technologies and transform them into accessible innovation. The ePM delivers excellent visual experience, intelligent operation, accurate physiological measurements, smooth workflow and comprehensive connectivity options for demanding hospital settings, such as Emergency Rooms, Recovery Units, Sub-acute Units and General Wards.
Minimalist Design, Thoughtful Design for Cleaning, Flexible Mounting Solutions, Intelligent Operation Experience, Valuable and Accessible IT Solutions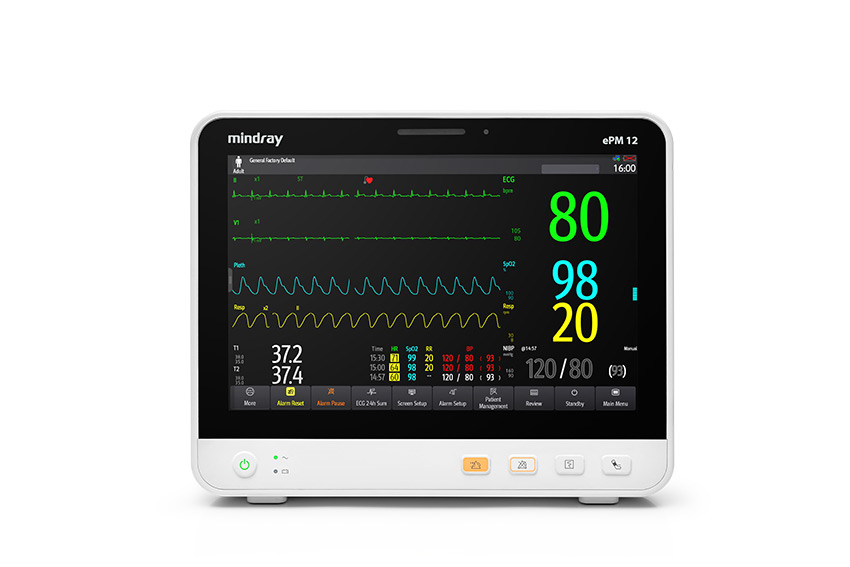 Key Features
Capacitive touch screen (10.1"/12.1") 3/5-lead ECG,ST, Resp,NIBP, 2Temp, TruSignal SpO2, Nellcor SpO2, Masimo SET SpO2.
Support 4IBP, 3 kinds of CO2
Longer battery life & Massive Data Storage
49 types of cleaning agent and disinfectant
Support up to 12 beds
Innovative gesture control
Large numeric mode enables critical parameter visibility more than 4 meters
EWS/ST Graphic/CrozFusion… unique CAAs
Neonatal solutions: ABD event OxyCRG & SpO2 monitoring screen
View other beds without CMS
Printer without CMS, no brand and model limitation for printer
All in one cost-effective CMS
Infographic helps in locating a technical problem promptly.
Improved structure to secure every components fixed and excellent electrical performance.
The ePM provides efficient Clinical Assistive Applications (CAA) to help support safe and efficient decision making in mid-acuity and general ward areas.