HyLED X
Surgical lights
Lighten your work
In surgical procedure, the optical performance of surgical lamps may change the light ­field view due to the position of the surgeons or the various instruments used.
This can affect the precision as well as efficiency of the Surgeon there by increase the risk and the duration of surgery. It is important to adopt new benchmark to have a stable and consistent optical performance of the surgical light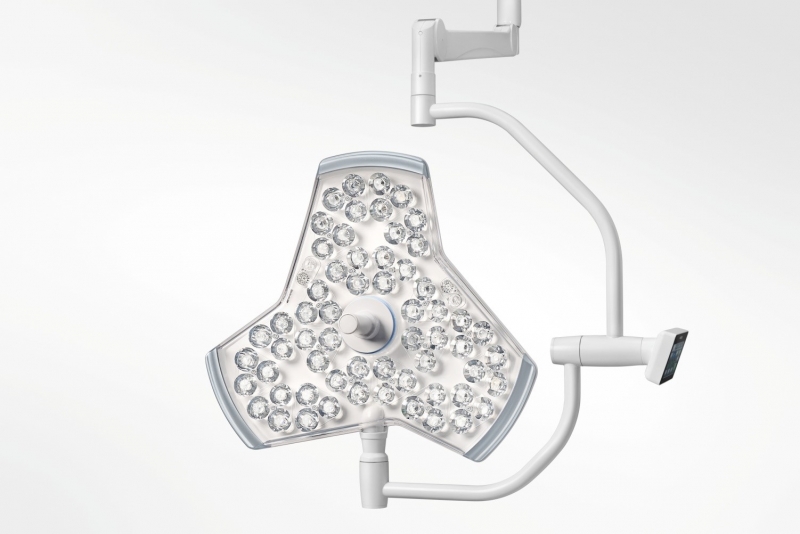 Key Features
HyLED X adopts the new Multi-Patch Superposition Technology (MPST) through innovative lens group design which generates a homogeneous light field even blocked by surgeon's head.
HyLED X have Wide Range Field Size Design so we got More Focus and Less Glare
HyLED X have Active Shadow Management through Automatic Illumination Control System Plus ( AICS Plus )
HyLED X provides a smooth illuminance pattern when the surgical lights are switched on , it helps to adopt visual acuity as per Weber's law.
The HyLED X light provides a light column with either a ­fixed daylight-like color temperature – 4,350K, or a color temperature variable from 3,500 – 5,100K in ­five ranks.
The HyLED X light have iRelax function which provides these features:
Anti-flicker, as comfort as day light;
Smooth brightness, adapt for better pupil shift;
Eye-relaxing backlight, reducing eye fatigue.
HyLED X can be equipped with a powerful impedance sensor integrated in the control handle to be controlled directly from the sterile handle, simply rotate to control the illuminance and size of light ­eld. There is no need to reset on the control panel.
Invisible screw and seamless design
Easy to clean for better infection control
Better Compatibility with Laminar Flow–DIN 1946
Safe and durable–IP54
Greater hygiene standards as Antimicrobial Powder Coating
Easily transition Integrated Camera and Camera preparation as you Surgical Lights between rooms with no special tools needed.
LED service life 60000hr
5 years warranty for the LED bulbs
HyLED X can be equipped with a Wireless Camera 5GHz WDHI brings in­finite Flexibility
The HyLED X light have Various Video Solutions
HyLED X can be equipped with a Digital video recorder
There are 6 options for different surgery mode in the HyLED X control system. One-button switch over to different surgery modes helps save clinical time with an intuitive & icon-based user interface touch screen.