DC-70 EXP
Diagnostic Ultrasound System
Quality Exams at Your Fingertips
Good image quality is prime for a promising ultrasound. DC-70 Exp offers that and a lot more. Its unique touch gesture feature is designed to help improve workflow, provide you with ease and certainty, enabling you to put patient care first. The clarity, as a result of innovative 3T transducer technology with single crystal on DC-70 Exp, would help you detect abnormalities easily in technically difficult patients. Intelligent diagnostic tools including a number of auto measurement packages, would help you reduce scan time, standardize exam protocols, enhance productivity with added patient focus.
Innovative technology guarantees quality exams
Quality exams in terms of imaging and operation, is what sets the DC-70 Exp apart. Incorporating an optimum balance of advanced technologies and easy operation, DC-70 EXP would greatly enhance your experience for your daily clinical practice. High performance transducers powered by Mindray's exclusive 3T transducer technology with single crystal, coupled with imaging technologies including echo-boost, 2nd Generation HR flow and highly user-centric operational techniques have allowed DC-70 exp to be a workhorse addressing challenges faced by you while scanning under pressure.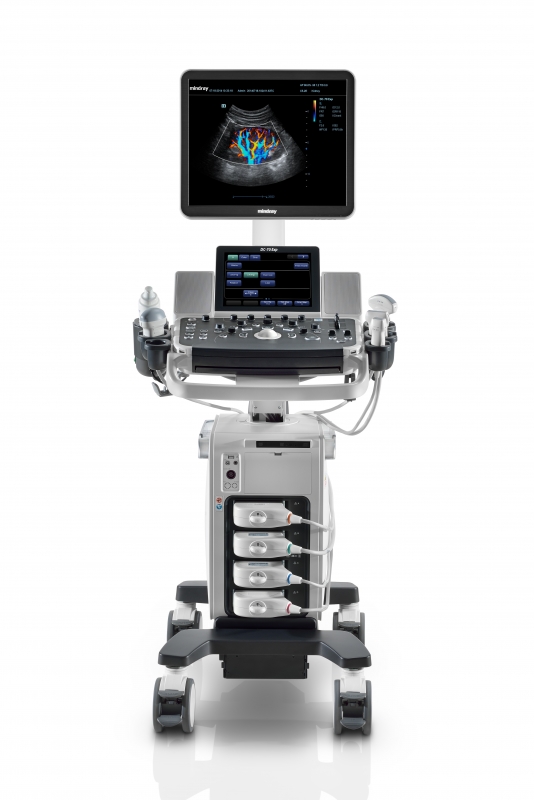 Key Features
19-inch high resolution color LED monitor , Resolution: 1280*1024 , Viewing angle: 120 °left/right; 90°up/down
Digital on-screen display of brightness and contrast controls
Independent tilt up of 110 degrees from horizontal and swivel left/right of -90 to 90 degrees
4-inch multi-touch LED touch screen, Resolution: 800*600
Touch screen panel angle adjustable for easy visualization: 20 degrees in rotation, Support touch screen gestures, Support thin latex gloves on touch screen
Multi-directional articulating monitor arm for better user-friendly experience
B-Mode
THI and PSHTM
M-Mode
Color M Mode
Color Doppler Imaging
Power Doppler Imaging and Directional PDI
Pulsed Wave Doppler
iBeamTM (Spatial Compound Imaging)
iClearTM (Speckle Suppression Imaging)
iTouchTM (Auto Image Optimization)
Echo BoostTM
Zoom/iZoom (Full Screen Zoom)
FCI (Frequency Compound Imaging)
B steer
ExFOV (Extended Field of View)
HR FlowTM (High Resolution Flow)
Raw data processing
4 active universal probe ports, 1 more for pencil probe only
hard drive
DVD R/W driver
Built-in wireless adapter
USB 3.0 ports, 1 more dedicated USB port for printer
Touch gestures
iStorage
MedSight
MedTouch
iScanHelper
Continuous Wave Doppler
ECG
Free Xros MTM
Free Xros CMTM
iScapeTM View
Smart 3DTM
Real-time 4D
iPageTM (Multi-Slice Imaging)
SCVTM (Slice Contrast View)
STIC (Spatio-Temporal Image Correlation)
CMPRTM (Curved MPR)
Color 3D
Niche/3 Slice
iLive
Smart-V TM (Smart Volume)
Auto IMT
Elastography
TDI (Include TVI, TVD, TVM, TEI)
TDI QA (TDI Quantitative Analysis, including strain/strain rate)
Stress Echo
DICOM
Clinical Measurement Package
Smart OBTM (Auto OB measurement)
Smart NTTM(Auto NT measurement)
iWorksTM ( Auto Workflow Protocol)
iNeedleTM ( Needle Visualization Enhancement)
Built-in battery
Gel warmer