M7 Hand-Carried Color Doppler
Diagnostic Ultrasound System
Clarity -Accuracy -Performance Bring Your Crystal Ball to Point-of-Care
High Performance Ultrasound can let you scan more.
The M7 Diagnostic Ultrasound System is designed to fulfill clinicians' busy, challenging point of care environments. With M7's crystal clarity, crisp, clear image quality, it can perform any exam, from abdominal to vascular to cardiac, with efficiency and accuracy. Just choosing a transducer, the M7 brings you more benefits in more way than ever with wellness within reach.
Anywhere, Anytime
M7 Diagnostic Ultrasound System is a powerful imaging tool with superior image quality to assist you in meeting your clinical challenges today and tomorrow. The M7 is designed for use in all point of care environments. It delivers premium imaging performance across a broad range of specialties. Providing accurate data with speed, the M7 enables clinicians to achieve enhanced level of diagnostic confidence and efficiency.
Gorgeous design with Innovative technology
It's obviously designed with the power of leadership MINDRAY technology available to all clinicians. As a world-class medical equipment solution provider, M7 is a multiplying power station with innovation for the future. With its ergonomic mobile trolley same with performance and features comparable to that of conventional cart-based systems, provide you mobility with power and improve your productivity. To sum it up, the M7 delivers you the power and productivity of a full-sized system in a hand carried size.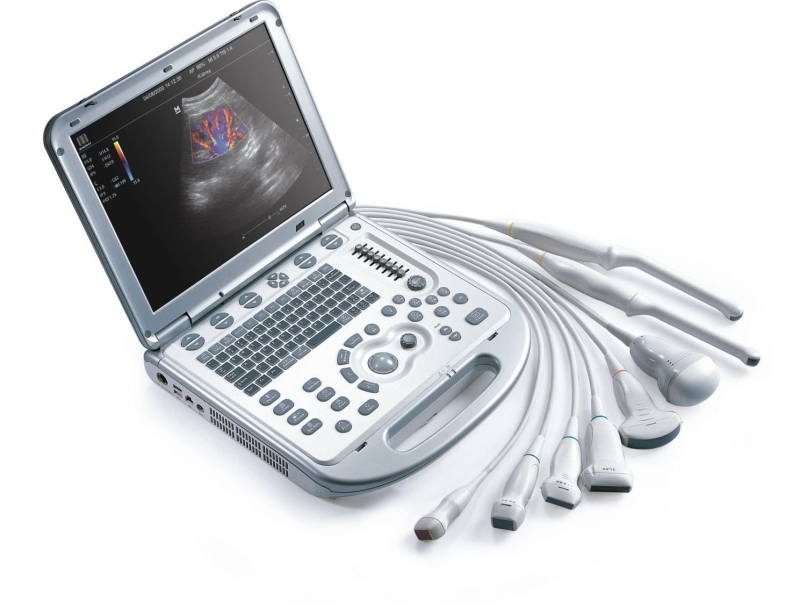 Key Features
15-inch high resolution color LCD Monitor, Resolution: 1024×768, Brightness adjustable, Screen Saver Open angle adjustable: 0°-150° (The angle between the monitor and control panel)
High capacity Li-ion batteries support continuous scanning more than 1.5 hours.
Robust magnesium with anti shock and anti splash ability can perform diagnostic exams whatever inside hospital or outdoor harsh environment.
Comfortable grab and go backpack and artistic traveling case for easy transportation
iRoam™, 802.11b/g wireless data transfer solution
DICOM 3.0 and M-Scan Pack providing Point-of-Care and field scan support
B-Mode
THI and PSH
M-Mode
Color Doppler Imaging
Power Doppler Imaging and Directional PDI
Pulsed Wave Doppler
HPRF (High Pulse Repeat Frequency)
iBeamTM (Spatial Compounding Imaging)
iTouchTM (Auto Optimization)
Zoom/iZoomTM (Full Screen Zoom)
B steer
Trapezoid Imaging
ExFOV Imaging
iStationTM
Integrated 320G hard drive
Network Storage Function (Transfer PC format data to shared folder on PC or another M7 system)
Remote control function
V access function
User-defined keys
1 active probe port
1 pencil probe port
2-USB ports
1 S-Video output port
1 Ethernet port
Built-in Battery: LI23I001A
Power adapter
Control panel film with language
iClearTM (Speckle Suppression Imaging)
Continuous Wave Doppler
Free Xros M
Free Xros CM
iScapeTM View
Smart 3DTM
4D (Including: Static 3D, Real time 4D, Volume Transducer is necessary)
IMT (Auto Intima-Media Thickness Evaluation)
TDI (Include TVI, TEI, TVD, TVM)
TDI Quantitative Analysis
Stress Echo
iNeedleTM (Needle Visualization Enhancement)
Cardiovascular
Free Xros™ Imaging (Anatomic M mode)
Tissue Doppler Imaging
Embedded IMT (Intima Media Thickness) software detects edge with mean and maximum thickness value.
Obstetrics/Gynecology
4D Imaging on top of Portability
New transducer design: the ergonomic design and the light weight allow the users to
scan in 2D as with a standard convex probe.
New 4D transducer: With its ergonomic design and the light weight allow clinicians
elevate speed of scanning and provide ease of 3D/4D acquisitions.
Abundant clinical measurement and analysis packages
Anesthesiology/ Emergency Medicine/ Musculosketal
Abundant and dedicated clinical measurement and analysis packages
Wide range of broadband transducers including convex, linear, transvaginal, phased array and 4D transducer