SV800/SV600
Ventilator
All Intelligence Leads to Ease
In the modern busy clinical environment , ease of use is a fundamental requirement for all medical devices. With this in mind, the new Mindray SV600 ventilator enables clinicians to set and deliver ventilation therapies quickly and easily via the intelligent ergonomic design and flat user interface.
A high-end ventilator featured with 1080p HD wide screen, combines an intuitive customized UI with powerful assistive tools and modules.
Ventilation modes and decision-supporting tools like Intelligent Assistant are developed on the basis of clinical needs and professional guidelines to help medical personnel calmly make clinical decisions.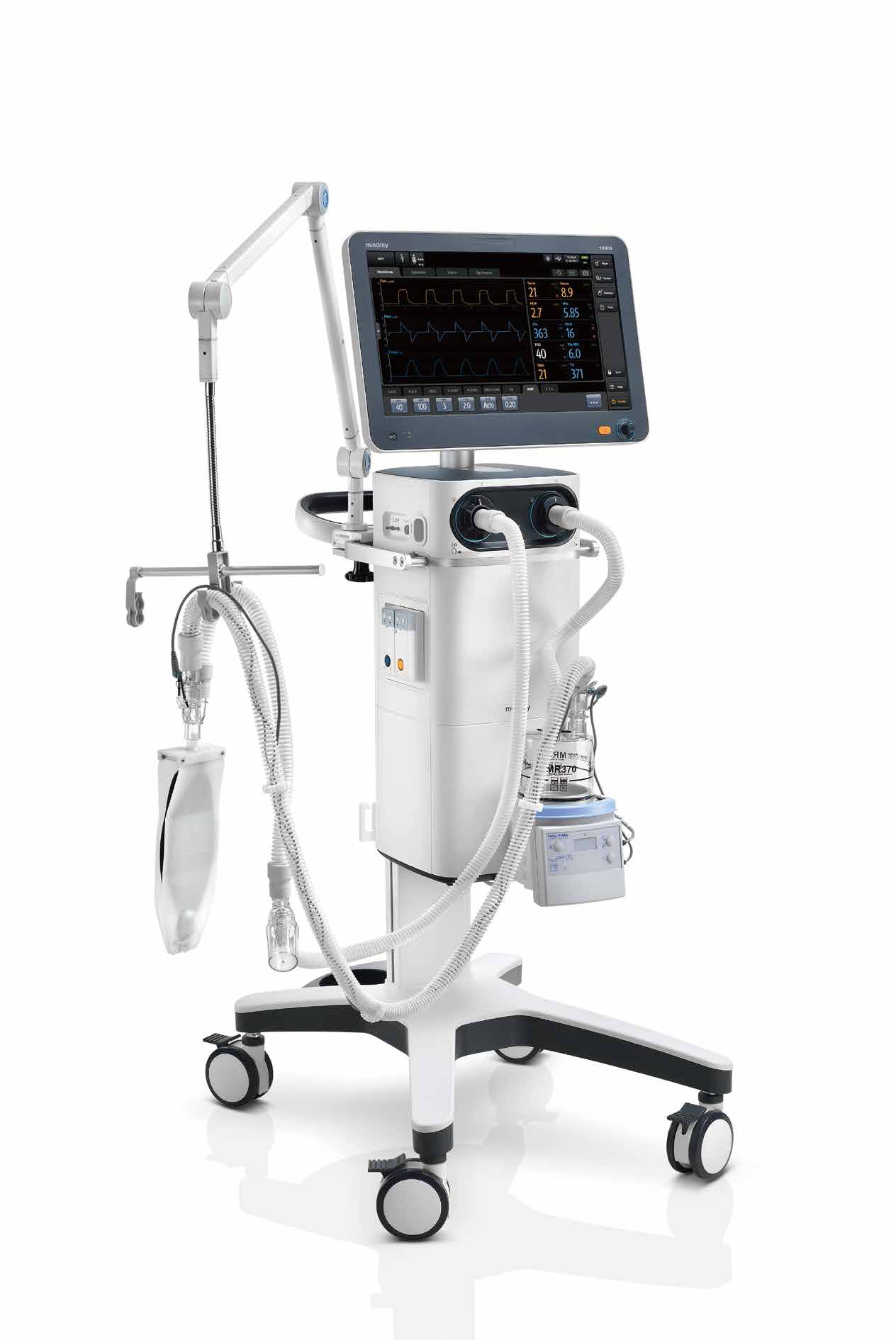 Key Features :
Suitable for adult, pediatric and neonatal patients (minimum 0.2kg).
Full color 18.5 inch (SV800) & 15.6 (SV600) TFT touch screen with high resolution (1920*1080).
The new intuitive graphical display enables users to learn quickly how to navigate and locate mode and parameter controls, thereby reducing errors and improving efficiency.
Utilizes numerical and graphical displays to show real time resistance, compliance and the spontaneous breathing status. Combined with the dynamic short trend display clinicians are able to monitor and evaluate changes in the patient's pulmonary ventilation and initiate the appropriate therapies.
Pneumatically driven & electronically controlled ventilator.
Full-automatic system check procedure.
Invasive and non-invasive ventilation which could be used inside ICU or outside ICU.
Backup air supply (C600) is optional, which could guarantee the ventilator work properly in emergency condition such as no air supply or no electricity supply.
With real-time gas pressure electronic display.
Dedicated inspiratory & expiratory flow sensor to ensure the ventilation accuracy. Inspiratory & Expiratory module can be detachable and autoclavable (134℃).
Modular designed main-stream / side-stream CO2 concentration monitoring, which is compatible with patient monitors.
Modular designed SpO2 measurement , which is compatible with patient monitors.
Having the following ventilation modes or similar ones:
V-A/C (Volume Assist/Control )
P-A/C (Pressure Assist/Control)
V-SIMV (Volume-Synchronized Intermittent Mandatory Ventilation)
P-SIMV (Pressure-Synchronized Intermittent Mandatory Ventilation)
PSV (Pressure Support Ventilation)
CPAP (Continuous positive airway pressure ventilation)
nCPAP (nasal Continuous positive airway pressure ventilation)
Duolevel (Dual Level Positive airway pressure ventilation)
APRV (Airway Pressure Release Ventilation)
PRVC (Pressure Regulated Volume Control)
PRVC-SIMV (PRVC-Synchronized Intermittent Mandatory Ventilation)
VS(Volume support)
Apnea Back-up
AMV (Adaptive minute ventilation)
CPRV (Cardio-pulmonary resuscitation ventilation)
Ventilator Data, trends and screenshots can be exported to USB.
5 types of communication ports: RS232, VGA, USB, Ethernet, Nurse Call.
Connect seamlessly to both HIS and CIS system using the BeneView patient monitor series.
Designed in accordance with international and European standards and labeled with the CE marking
Compliance with IEC 60601-1-2 for EMC.