BeneVision TM80
Telemetry
More than telemetry
The BeneVision TM80 Display Telemetry Transmitter offers advanced technology for early detection of an ambulatory patient's changing condition. Designed to improve outcomes and facilitate patient transport the TM80 wearable patient monitor allows the clinician to easily convert from Telemetry mode (all alarms monitored at the BeneVision CMS) to Monitor mode (local alarms and display active at the TM80).
The TM80 provides on-board arrhythmia detection, physiological alarms, the ability to record 200 events and 48 hours of tabular trend data right at the patient's side. The TM80 stores two hours of full disclosure waveform data for backfill to the BeneVision CMS in the event of a loss of communication, ensuring a complete patient record. Empowered with this advanced functionality, TM80 enhances workflow as the clinician can quickly respond to the patient's condition, while at their side. Rugged and reliable, TM80 meets the 1.5 meter drop test and is IPX7 waterproof rated. Power options include a rechargeable lithium ion battery pack that provides impressive runtime on a single charge, serving clinicians well in high accupancy care areas. Additionally, device location capabilities can locate ambulating patients should they travel outside the network range and backfill functionality helps to maintain a seamless patient data record. TM80 also leverages standard Wi-Fi technologies to provide an expanded number of devices within large coverage areas.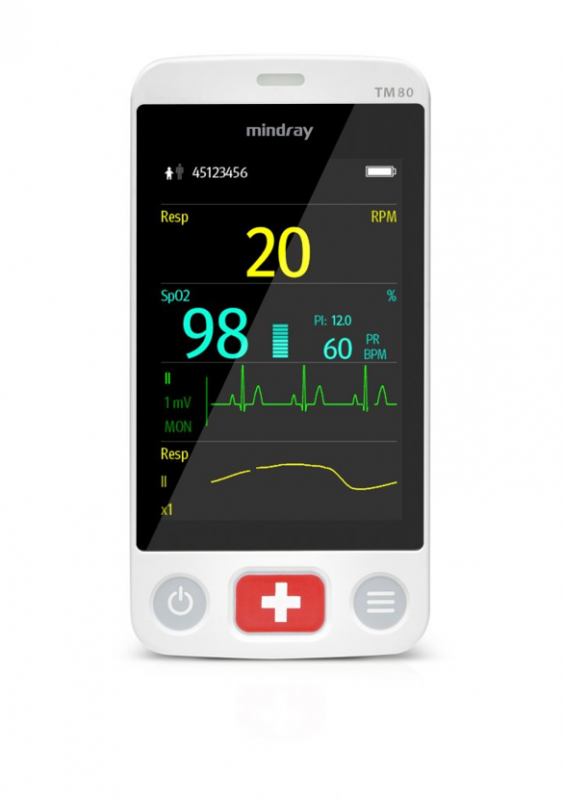 Key Features
3.5 inch color touchscreen LCD
Gesture-driven for fast, intuitive operation
Enables continuous monitoring with bidirectional local alarms
Supports a complete patient record with comprehensive backfill capability to BeneVision CMS telemetry
1 oz (229 g) with rechargeable lithium-ion battery
Waterproof rated IPX7
Rugged, validated to 1.5 m hard surface drop test
Durable , Chemical -resistant materials, compatible with a broad range of commonly used disinfectants.
Clear, easy to read HR, respiration, and Spo2 numerics.
ECG, respiration, and Spo2 waveforms at the patient.
Multi-vector arrhythmia analysis with atrial fibrillation detection, continuous ST analysis, and continuous QT/QTc monitoring at BeneVision CMS.
Supports 3/5/6-lead ECG lead sets, both reusable and single patient use, for infection control.
Offers Masimo or Nellcor Spo2.
Non-invasive blood pressure provided by patient-worn BP10 (optional); measurements sent to BeneVision CMS via wireless pairing with TM80.
Operates in 802.11 a/n/ac at 5 GHz.
Flexible power choices include 3AA or rechargeable lithium-ion battery packs
Run time up to 36 hours.